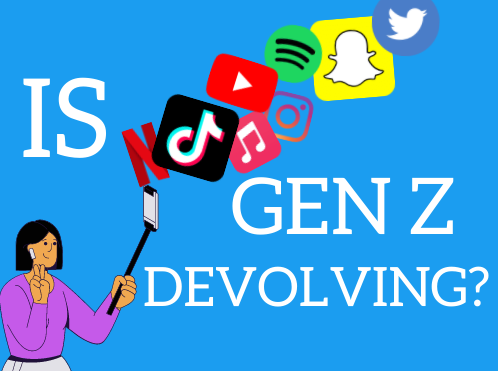 Photo by: Canva
The devolving of Gen Z
Opinion: Insights into Generation Z
May 4, 2022
It's often been said that each generation is more spoiled than the last.  Every generation wants more than the one before, and is all about "me, me, me."  But how true is that? Well, as a member of Generation Z – those born from 1997 to 2012 – I can verify that it does hold some truth. For a generation who thinks of nothing but constant phones, hot gossip, slang and internet trends, Generation Z may be one of the most underdeveloped generations despite the massive amounts of information at their fingertips.
What has caused this shift? It's easy to say that all the madness came from technology, and our newest, most advanced friend, the cellphone. But is it true?
Cellphones did not become popular until the early 2000s, and the first iPhone didn't arrive on the scene until 2007.  But now, in 2022, it is almost unheard of to find someone who does not own a phone. The cellphone, having evolved from its start as a simple gadget used to simplify everyday life, has now morphed into a corrupt necessity that has overtaken a generation.
"
The cellphone, having evolved from its start as a simple gadget used to simplify everyday life, has now morphed into a corrupt necessity that has overtaken a generation."
Generation Z is the last generation in history to grow up knowing what life was like without technology. Now, every generation to come will be rooted in technology from day one.  And it has already started, with four and five-year-olds who have iPads and even some kindergarteners who have iPhones. What do screens benefit at such a young age? Children deserve to live their youth with pure experiences and adventures rather than being sucked into the screens for countless hours, clicking their lives away.  
The same goes for the rest of my generation who spend nearly seven to eight hours a day on social media, endlessly scrolling. The twenty-first century has unlocked Pandora's box of addictive social media, so now we must face the consequences. It would be nearly impossible to just "shut it all down" and completely erase social media from the world.  
Although the increase in screen time has negatively impacted this generation, some say the internet has paved the way for unlimited possibilities and solutions, and in some ways, this is also true.
With ubiquitous access to phones and technology, the world is able to receive news, chat with friends, shop online, post updates, find what's trending, and book vacations all within milliseconds.
It could be argued that Generation Z is one of the most powerful and united generations ever, using social media platforms to rally together and voice their opinions loudly and strongly, reshaping the way society works.
What may have taken past leaders months of recruiting for a movement, now can be done with a single tweet. Diseases and viruses can now be cured quicker with technologies and machines. Not to mention, with the "School of Youtube" available to all, it is now easier than ever to learn languages, school subjects, CPR, calligraphy, even how to change a tire, or how to make sushi. 
So then, if everything is becoming easier and more accessible, why isn't everyone in my generation a millionaire? Why do we still have worldwide problems? Well, I could answer that with a million different answers. 
Technology was invented to ease human labor and lower the amount of needed effort. Because in reality, our brains hate waiting. But if we sit around and expect our relationships with friends and family to work as fast as our WiFi, we would be waiting quite a while.  Because, unlike in the digital world, the raw, emotional connections we make with humans take time and cannot be rushed.
"
But if we just sit around and expect our relationships with friends and family to work as fast as our WiFi, well then we would be waiting quite a while. "
This brings me to my next point: instant gratification, or getting what you want when you want it. A term used to describe our generation's expectations quite effectively.  
Phones, while useful, have made our generation lazy. Twenty years ago, if someone wanted to place a call, they either had memorized the phone number or looked it up in the phone book.  If someone didn't know what a word meant, they look it up in a dictionary. If they needed to drive to an unfamiliar destination they pulled out a paper map. Now, the world is quite literally at our fingertips. We can Google any term, place any call, or research any topic within seconds
The drawback to having such a remarkable feature in our lives is that our generation is beginning to forget the fundamental core values of being a developing human being, like problem-solving and real-world street smarts. Because in reality, Google cannot always answer all of our questions.
It seems like so often teenagers get sucked away from real life and get transported into the world of  Facebook, Instagram, Snapchat, and of course the belly of the beast, Tik Tok, whose popularity is on the rise.  They start swiping for "only five more minutes" which quickly turns into five hours, and another wasted day.
For some students, an average day consists solely of waking up, checking their phone, going to school, going home, playing video games, sleeping and repeating. Fewer are choosing to participate in extracurricular activities, holding a jobs, finding hobbies, and unfortunately, they end up falling into an unhealthy, crippling digital social life.  
Did you know that nearly ⅔ of adults get their news from social media? Unfortunately, social media platforms can filter news based on the user's preferences, leading to an echo chamber instead of an unbiased news source.
It is without a doubt that the depression and anxiety that has flooded Generation Z in the last few years is due to the toxic intake of screentime, where teens are constantly inflating their egos by comparing themselves to others on social media and posting "the perfect pictures."  As the pandemic comes to an end, science is showing that Generation Z is the most depressed and unhappy generation. This could be due to the fact that after two years of social isolation and mask-wearing, Generation Z has become more cautious, more aware and more fragile. They have found comfort in their homes and on their phones and see no reason to change their ways. 
"
Sometimes, the ones who live the most interesting lives are the ones who are unattached to their phones. "
As Dwayne "The Rock" Johnson would put it, "It's about drive, and it's about power." It seems that my generation has no drive or motivation to actually get off their couches and search for a different source of excitement and dopamine, and so, we have earned the name of  "the hermit generation." Which, quite frankly, is embarrassing.
It's embarrassing because not all of us live like hermits. Sometimes, the ones who live the most interesting lives are the ones who are unattached to their phones. The ones who let their minds travel and the ones who are constantly on the move and onto the next unforgettable experience.
The topic of Generation Z is forever debatable, so I will end with my call to action: turn it off.  Turn off the cell phone, the television, the computer and everything else. Your life is only lived once and it would be a shame to waste it behind a screen, seeking validation from strangers eight hours a day.  
If Generation Z actually wants to make a change, then they will go outside, volunteer in the community, start a non-profit, participate in clothing and food drives and, most of all, get off their phones. They could get a job, play a sport, find a club or find a new passion. Only then will Gen Z begin to see the world that lies beyond the screen and what lives in the great outdoors. Our world has become so materialistic that we have almost lost our great sense of adventure. So go outside, be patient with yourself, try something new, and take a deep breath.  Put your phone down and everything is going to be okay.