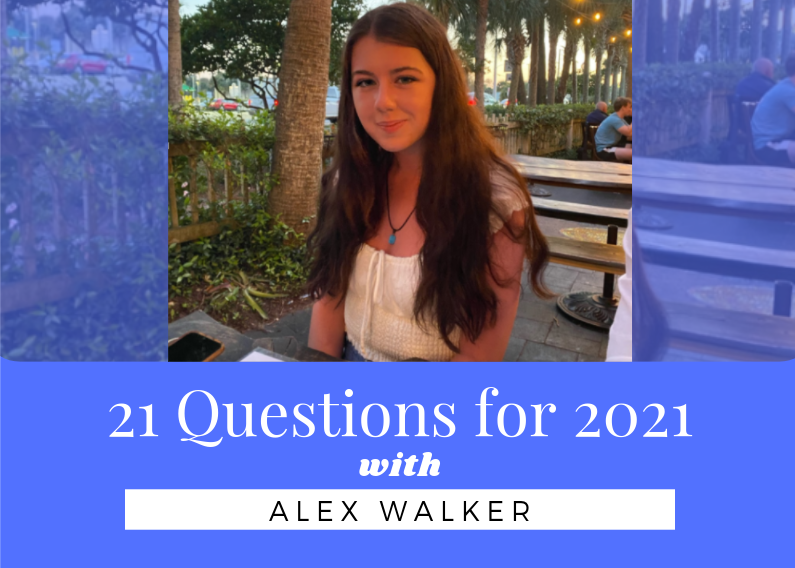 21 Questions with Junior Vice President, Alex Walker
21 Questions for 2021: Alex Walker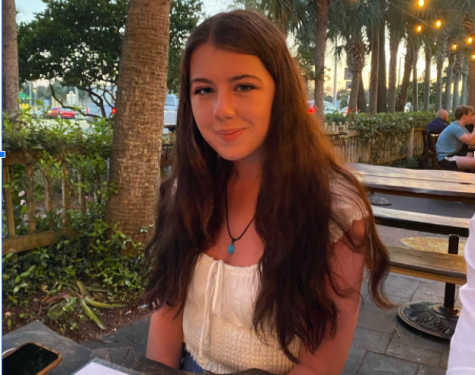 Junior class Vice President, Alex Walker enjoys reading, art and playing soccer for Midlo while not in school. Additionally, Walker is also the President for Midlo's Paws for a Cause Club, as well as an active member in the FBLA. Below are Walker's responses to the Scoop's 21 Questions for 2021.
1. What is your most useless talent?
I can procrastinate like a boss. 
2. What is your spirit animal?
 I think my spirit animal is definitely an owl. I can't explain why, I guess it's just a feeling. 
3. If you were the captain of a pirate ship, what would be the name of your ship?
S.S. Girlboss
4. What was your first job?
I'm still working my first job as a style consultant for Target! 
5. If you had to hide a giraffe, where would you hide it?
I'd hide my giraffe in a zoo. Right in plain sight. 
6.If you had to travel to one place right now where would it be?
I would go to Tokyo, Japan
7. There are now 25 hours in a day! How would you spend your extra hour?
Honestly, I'd probably use that extra hour as an excuse to procrastinate my homework. If not that, I'd spend it reading my book. 
8. What is your cell phone wallpaper?
It's a picture of me and my friend, Emily. 
9. If you had your own talk show, who would you first three guests be?
Dylan O'brien, Harry Styles, and Jennifer Lawrence. 
10.Would you rather have a rewind button or a pause button on your life?
I'd rather have a rewind button so I could go back and experience some of the best memories in my life so far. 
11. Name an imaginary class you wish Midlo offered.
I wish Midlo had a fashion and design class where you could design and sew different pieces of clothing. 
12. If you were a refrigerator, what item would you hate holding?
Eggs. I despise eggs. 
13. Which of Snow White's seven dwarfs describes you best (Bashful, Doc, Dopey, Grumpy, Happy, Sleepy or Sneezy)?
Definitely sleepy. I like my beauty sleep. 
14. What book are you reading right now?
The Ballad of Songbirds and Snakes by Suzanne Collins. I definitely recommend this book if you love the Hunger Games trilogy! 
15. What TV show are you watching right now?
I'm watching The Promised Neverland. The first season is on Netflix and it's my favorite show by far! 
16. What song best represents your life at the moment?
I'd say "Jamie" by Surf Curse best represents my life at the moment. It reminds me of spring/summer nights and the simple, yet special, moments of my life. 
17. If your house was on fire and all your family members and pets were safe, and you were given the opportunity to go back and save one thing, what would it be?
An old photo of me and my best friend, Ava.
18. If you could give a piece of advice to your younger self, what would it be?
I would tell myself to stop comparing myself to others because you are beautiful just the way you are. 
19. What celebrity would you most like to switch lives with?
I would love to switch lives with Jennifer Lawrence. She's my favorite actress and I've always wanted to star in movies like she does.
20. What teacher has been most impactful to you?
The teacher that has been most impactful to me is Mr. Pruitt from my freshman year. He is always there for his students and his class is one that I will always remember. 
21. Is a hotdog a sandwich?
A hotdog is NOT a sandwich. Period.