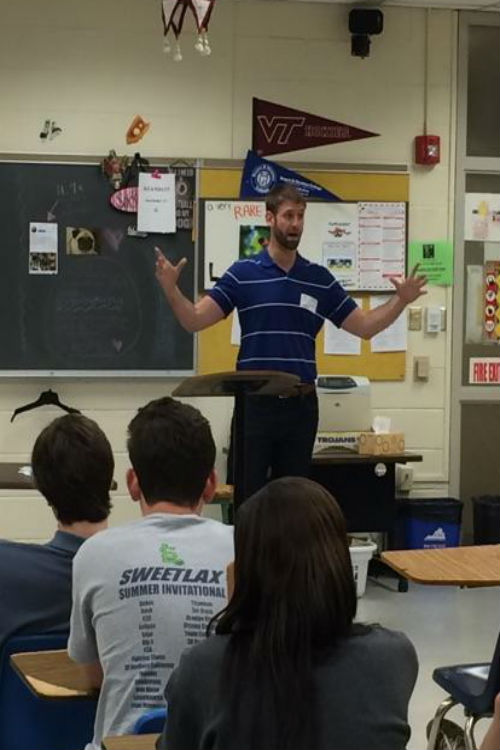 Students in Mrs. Manheim's IB Business Management class are doing a Project Based Learning (PBL) initiative called Sycamore Square Revitalization Project. Sycamore Square is the shopping center in the heart of the village of Midlothian. The center has always relied on small businesses, anchored by one large business, most recently Martins. The students' task was to revitalize the center, filling it with stores that would appeal to a larger target market. Students have to research the demographics and location of roads/highways/stores in the Midlothian community to decide on stores they believe will be successful. They also will plan a grand opening activity and promotional activities to conduct prior/during/after the grand opening celebration of the new and revitalized center. Students may change the architecture or continue with the current quaint, historic look.
Mr. Bob Butcher and Mr. Andrew Thacker, property managers for S.L. Nusbaum Realty Co. came in to talk to Mrs. Manheim's classes on Friday, May 5, 2017. They shared information about the history of the Sycamore Square. It opened in the 1970's when the county required architecture reminiscent of Colonial Williamsburg. Students asked the realtors any questions about the success rate of various current tenants. For example, Quilter's Corner is one of the stores that has the highest sales revenue in Sycamore Square.
The students enthusiastically debated about which stores should stay and which should go, and also, what key stores they could add to draw shoppers. Trevor Christmas felt passionate about adding an Amazon Book Store in the Martins space. Jason Li and Sai Poluri favored adding a Whole Foods or Trader Joe's in place of Martins. Sarah Arezo and Daniella Relvas-Veliadis thought adding an ACAC Fitness Center in the place of Martins would be extremely beneficial for Sycamore Square.
Mr. Butcher and Mr. Thacker are excited about the project as well, telling Mrs. Manheim, "You have an impressive group of students, and we definitely look forward to hearing what ideas they come up with to help us revitalize Sycamore Square." The future marketing planners and businessmen and women are sure to have some great ideas to share upon completion of their projects.