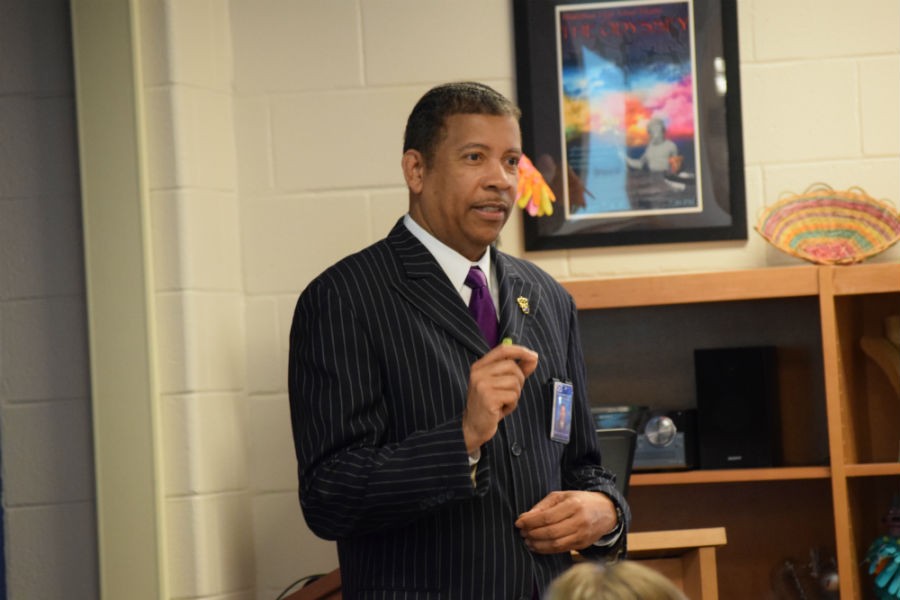 On Monday, February 29th, 2016, the superintendent of Chesterfield County Public Schools, Dr. Marcus Newsome, visited Mrs. Tully's Teachers for Tomorrow class to share his personal experiences as a teacher and an administrator and further give his insight on the topic of education. He began by asking the Teachers for Tomorrow to introduce themselves and tell him what goals they wish to accomplish in the near future.
At the start of Dr. Newsome's presentation, he shared the many responsibilities that he faces while holding the position of the superintendent of such a large county, ranging from transportation, food service organizations, the curriculum that teachers should abide by, and deciding on snow days. With so many responsibilities, Dr. Newsome has a very busy schedule with many meetings and presentations. However, he expressed to the Service Learning students that his favorite part of being the superintendent is when he gets to work with students at various schools in the county.
Furthermore, Dr. Newsome described his experience growing up in a segregated community. He explained that his father had served in the military, and, therefore, he had attended six different elementary schools as a child. He also spoke of his early experiences as an art teacher in Washington, D.C. Graduating college with an art major, Dr. Newsome had no idea that he would become a teacher; however, his big brother, who was his mentor, inspired him to go into the education field and eventually head an entire school system.
From Dr.Newsome's motivational visit, students looking for a career in the education field gained a greater insight into  the potential opportunities a career in education might hold.