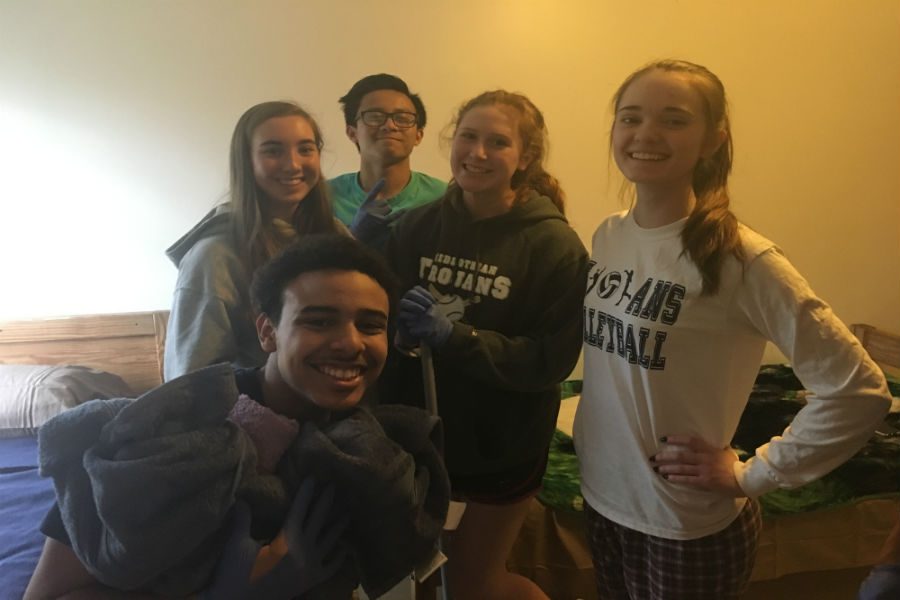 Ashley Manheim
On Sunday, January 22, 2017, four Midlothian High School students, Elizabeth Czenczek, Maggie McDermott, Ashley Manheim, and Andre Protacio, ventured to Housing Families First to lend a helping hand to those less fortunate. Housing Families First is an organization that provides a place for homeless families to stay. The organization works to help them find employment that pays enough to afford their own apartment, food, beds, clothing, and much more. Residents of Housing Families First usually stay at the house for about 4-6 weeks before they are back on their feet, and after they leave, the organization still checks up on them to make sure they are successful.
The Midlo students completed multiple jobs throughout their two hours spent at the Hilliard House, including cleaning rooms, making beds, sorting through donations, cleaning and adding more clothing to the closet room, which supplies clothes to residents, and sorting and organizing toiletries in the rooms.
Sophomore softball player Maggie McDermott explains, "Helping out at Hilliard House has made me realize all the privileges that I take for granted and all that I have to give back. The families that live at Housing Families First might not be there for long, but we want to make them have the best transition they can." Sophomore Elizabeth Czenczek, a member of the Midlo Show Choir, says, "Going to Housing Families First was an amazing experience, and I loved getting the opportunity to help people. I felt very privileged, and I was humbled and thankful to know that I have two hard working and loving parents. This was a very eye-opening experience that everyone should get the opportunity to do."
The Midlo students thoroughly enjoyed the experience of bonding with other students while helping others and can't wait to help Housing Families First again soon. For more information on this worthy cause, click Housing Families First.