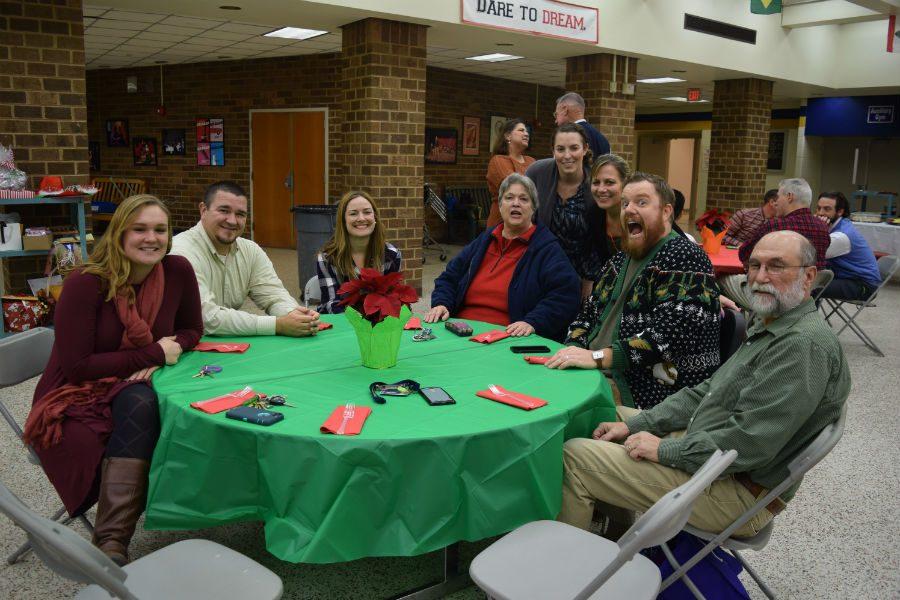 On Wednesday, December 14, 2016, Midlothian's hardworking faculty and staff took time out of their busy schedules to gather in the Open Commons for the annual Faculty Holiday Luncheon.
After enjoying a delicious lunch, the fun festivities began. Mr. Thomasson won the Tacky Sweater contest with a creation designed and sewn by his daughter. Mrs. Tully announced the winners of the Holiday Door Decorating Contest. First prize went to Ms. Goins, Mrs. Smith, and Mr. York for their Elf (the movie)-themed hallway. Mrs. Miller and Mrs. Patel took second place for their traditional elf display. For the full list of winners and a slideshow of Midlo's festive doors, click here.
Mrs. Giles works tirelessly each year to collect prizes from the community for a faculty and staff raffle. Fantastic prizes this year included: hotel accommodations, manicures and pedicures, movie tickets, restaurant gift certificates, museum memberships, and jewelry store gift cards. Excited faculty members anxiously waited to hear their names called by Mrs. Graham and Mrs. Tucker. When they finished distributing all of the prizes, the poinsettia on each table went to the faculty member with the most tenure, and everyone cleaned up and returned to the busy task of grading exams. It is such a joy to see the retirees return and to spend time with cherished colleagues. Thank you, Midlo faculty and staff, for your tireless contributions. Happy Holidays!