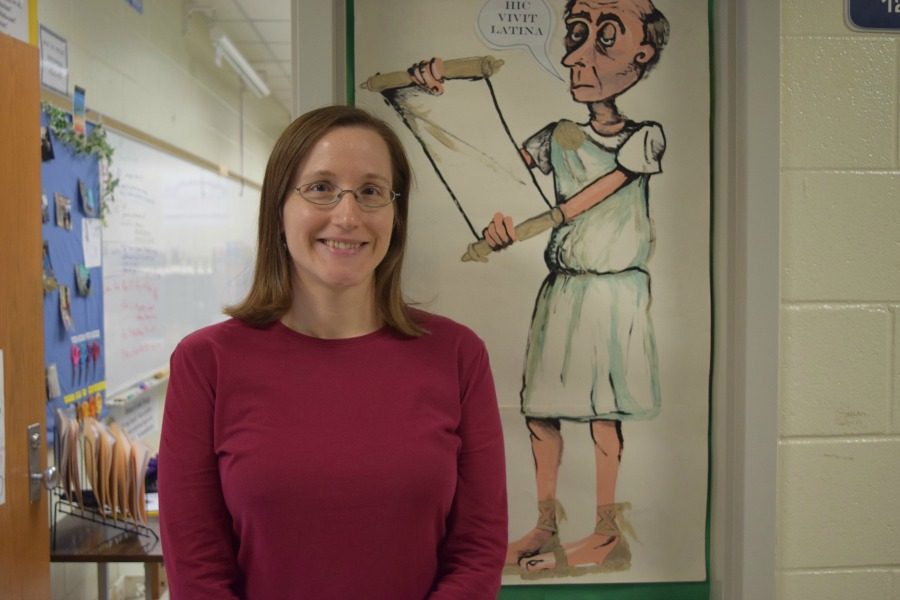 Emily Peachee
Latin teacher Ms. Amy Petersen has fueled students' interest in the language of the Romans at Midlothian for the past 15 years. Her dedication to teaching and her impact on students has made her a role model for her fellow educators in the Richmond Metro Area.
This dedication deserves commemoration, and this year Midlo parents decided to recognize her incredible dedication. Every year, parents, teachers, and students may nominate teachers in the Richmond Metro Area for the R.E.B. Awards for Teaching Excellence, established in 1988, to acknowledge public school teachers who distinguish themselves from their peers. The Community Foundation for Serving Richmond and Central Virginia describes the awards as "An award based off the belief that a positive educational experience at the elementary, middle, and high school levels helps children form positive life-long habits towards toward learning and discipline". The nomination process was complicated; first, two parents sent in nomination letters to the committee. After, Principal Shawn Abel put together a strong letter of recommendation advocating her candidacy. Finally, Ms. Petersen completed a proposal outlining her professional development idea, which detailed what she would do with the prize money, and interviewed with a panel.
Out of a fierce applicant pool of approximately 150 candidates, Ms. Petersen shone through and became one of fifteen  2016 Finalist Winners of the R.E.B awards. Following this award, Mrs. Petersen will be awarded $11,000 to complete her development activity, studying abroad in France. Ms. Petersen says, "I have always wanted to learn the modern language, French, as it is the language of a few of my relatives. This stipend offers me an incredible opportunity to see the Roman ruins in France, as well as enhance my teaching ability by having the physical experience of seeing further aspects of Roman history." Mrs. Petersen plans to enhance her language classes when teaching the history of Roman culture by sharing the personal experiences from her trip this summer. Please congratulate Mrs. Petersen for earning this incredible honor.