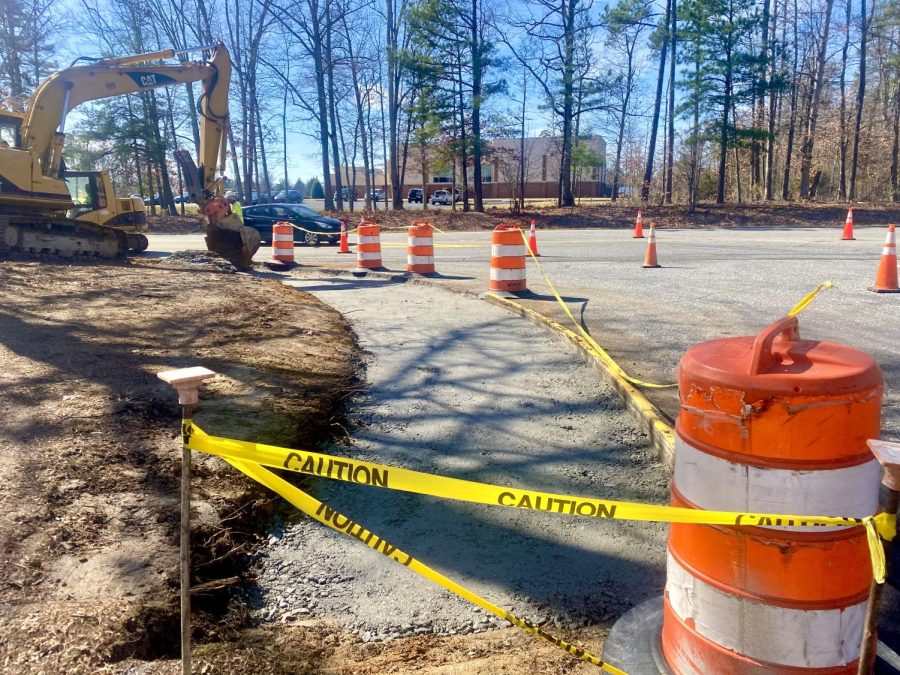 Kyle Reeder
As Midlothian's population continues to rise and businesses move into the area, the Midlothian community is forced to adapt in order to accommodate for the increase in activity. With the boom in families who have followed the new property developments in the area as well, Midlothian High School has seen an increase in the student population as a result within recent years.
With more students living nearby, many choose to walk or ride bikes to school given their close proximity. Under the guidance of the Virginia Department of Transportation, a new sidewalk is being built in front of the student parking lot in order to make such a commute safer and more accessible.
"The theory behind it is that we have a sidewalk on this side of the street for the students that want to continue walking down by Publix and Kroger," school security officer and traffic monitor Mr. Mason said.  
Not only will students be able to more easily navigate to local shopping centers, but have a safer commute from their home to school.
"I think it will really change the way I walk to school because when I walk on the grass it's kinda scary and I just feel safer walking on a sidewalk,"  freshman Sariah Washington said.
Without the sidewalk in place, students must walk towards oncoming traffic which is comprised of large school buses and many student drivers, still new to the wheel.
Not to mention, when it rains, it becomes increasingly more difficult to make the daily trek to school as "it gets all muddy and my shoes get all wet and gross," Washington said.
Prior to the sidewalk being in place, the area was composed of a beaten-down dirt path. With each day that passed, the stretch of dirt that students use to walk along became wider and wider, paving almost a direct vision of the future sidewalk's location.
"We have so many students that walk," Officer Mason said, "It's just a safer situation where you actually have a sidewalk."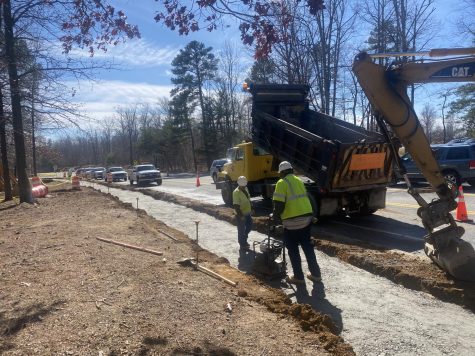 The crew of the Virginia Department of Traffic have been working day after day to make the sidewalk a reality.
"They've been working here a week already," Mason said, "And what they do is they cut out the dirt, and put in what you call crush and run, which is a very fine dirt and then they compact it."
With plans to open the sidewalk in the next week, many students are excited about a newer, safer way to walk to school.