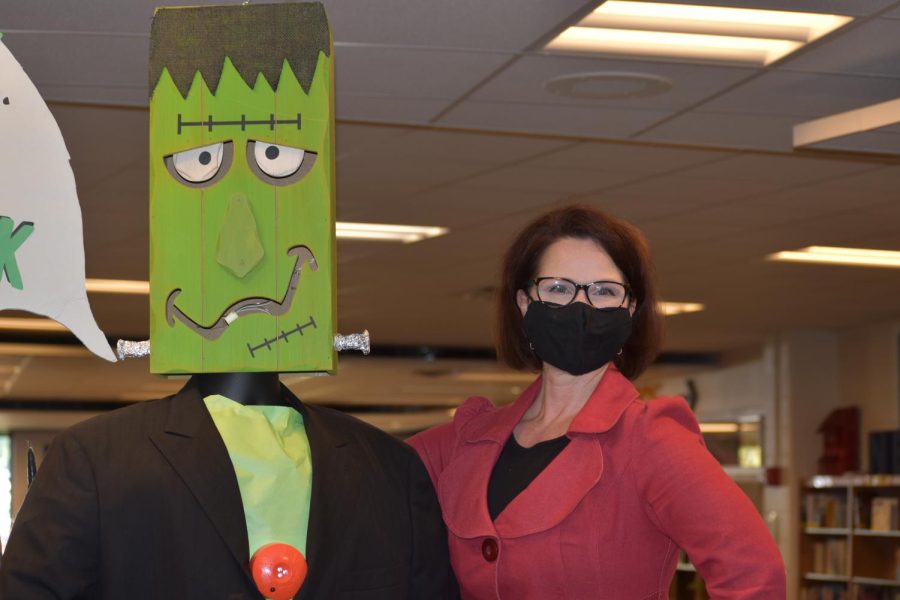 Ava Reese
Ms. Heather Murfee has been an inspiration to students and staff at Midlo for the past five years. In addition to her librarian responsibilities, she has a hand in creating the morning announcements while also sponsoring four clubs on the side. No matter the role she's filling, Murfee's goal is to directly support students, encouraging every young mind to achieve their goals.
Although Murfee receives help from Ms. Emily Evans, Ms. Elizabeth Boese, Ms. Mary Britten and Ms. Stephanie Simpson on occasion to carry out Young Adult Book Club meetings, she successfully runs not only Speech and Debate, which is considered a Virginia High School League academic sport, but also spearheads Yoga Club and manages the production of the school-wide morning and video announcements.
On top of her club sponsor obligations, Murfee constantly adapts to the ever-changing duties of being a librarian. Having a library that is accessible and welcoming to all is a huge priority for Murfee in her role of Program Administrator. Murfee is also an Information Specialist where she creates equitable access to library resources and a Teacher and Instructional Partner, meaning she collaborates with teachers to create lessons geared toward increasing the love of learning within students.
For Murfee, balance is necessary for her well-being and for developing a positive mindset. One way that she keeps herself grounded is by using Yoga Club as a time of rejuvenation. From an outside perspective, taking on all of these tasks may appear as too heavy as a workload, but Murfee embraces her many different roles in the community as she loves each and every one. One of her most time-consuming responsibilities that she regularly completes may be that of reading books to be featured in both the YA Book Club and within the library, yet this act is a pleasure for her to do.
"Reading will always be my favorite, but I would never call it a responsibility! It's an ongoing opportunity to introduce books as mirrors, windows, and sliding glass doors. Mirrors allow students to see themselves reflected in a book, windows allow students to look into other experiences to develop understanding and empathy, and books as sliding glass doors allow students to enter new worlds," Murfee said.
Murfee is constantly inspired by the "magic when [she has] the opportunity to demonstrate what lifelong learning looks like." This concept keeps her going even in the toughest times, including during the pandemic when she was unable to meet with students face-to-face. The step-back that occurred, however, furthered Murfee's drive to connect with all students who come through the halls of Midlo.