Marvel's The Falcon and the Winter Soldier now airing on Disney+
TV Show Review: The Falcon and the Winter Soldier
Marvel's plans for the post-End Game segment of the Marvel Cinematic Universe includes a series of exclusive TV shows and movies to extend the storylines of beloved characters. Adding to the franchise, The Falcon and the Winter Soldier was initially released on March 19, 2021, through the Disney+ streaming service. The show takes place several months after the events of Avengers: End Game, following the adventures of Sam Wilson and Bucky Barnes as they work to live up to the legacy of the late Captain America. Marvel's latest hit features a familiar cast of actors, including Sebastian Stan, Anthony Mackie, Emily Vancamp and Don Cheadle, all of whom had reoccurring roles in the studio's blockbuster films.
With only two episodes currently on air, The Falcon and the Winter Soldier has gathered extremely impressive reviews thus far. The new show has come to average a 94% approval rating among the critics of Rotten Tomatoes. Much of the show's success can be attributed to the director, Kari Skogland, who is no stranger to shooting the type of action sequences commonly seen in Marvel-related projects, as she has prior experience directing episodes of the History channel's Vikings and Hulu's The Handmaid's Tale. When asked about what direction she took to set this series apart from others of its kind, Skogland commented, "It started at the end of EndGame, that was the inciting incident that really took off the series. It mainly focuses on the premise of is Sam going to take on that shield, and what does it mean for the black community and white community. So he really has to decide if that legacy is for him or not." Undoubtedly, the show is an engaging watch from start to finish, incorporating a number of high-intensity action shots in comparison to WandaVision, another popular Marvel spinoff series. "I loved the combat scenes in The Falcon and The Winter Soldier. They are more creative than the previous movies and shows," sophomore Charlie Healy said.
The highly anticipated final episode of the explosive mini-series airs on April 23, 2021, giving fans an experience to look forward to. With a number of movies and TV series, such as Black Widow, Spider-Man: No Way Home and The Eternals, set to release later this year, the future for Marvel Studios as a whole, however, remains unpredictable.
Leave a Comment
About the Contributor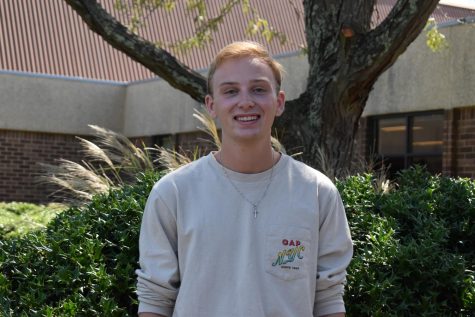 James Galloway, Arts & Entertainment Editor
James Galloway, Class of 2023