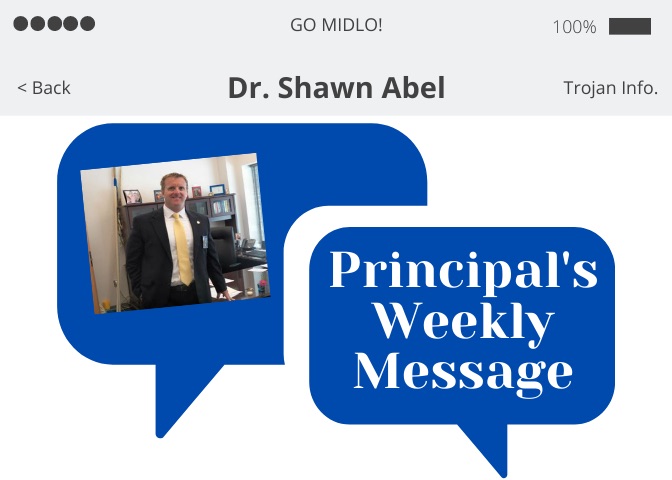 Bridget Tracy
Greetings, Midlothian Community. This is your principal, Shawn Abel, with your weekly message. So much going on around Midlo, even in a virtual environment. Project Restart updates, the release of our Virtual Student Scheduling Information website, less than two weeks until the end of Semester 1, winter sports, and so much more going on around Midlo. But you know what? WE GOT THIS! We're in this together.
Important dates (including changes) and reminders
1/13 MAPS Testing for Algebra I & II and Geometry;
1/18 is a holiday, we will only have one even synchronous day that week;  
1/20 remains an asynchronous day. Please remind your student to check in with their first block teacher on that day, as per our Wednesday schedule;
1/26 will be an asynchronous day. PSAT testing for Juniors;
1/27 will now be an even synchronous instructional day;
1/28 is the last student attendance day for the first semester;
1/29 is now a full asynchronous learning day (teachers will finalize grades for semester 1).
MAPS Testing for Algebra I & II and Geometry
All Algebra 1, 2, and Geometry students must complete their Math MAPs assessment this Wednesday.  Remember, this assessment is part 2 of a three part growth assessment program. We simply want students to relax and do their best (no pressure). Please check your email for details.
PSAT Testing Day – 1/26
All juniors will be testing on 1/26, while all other students will follow our traditional asynchronous day, normally held on Wednesday. To prepare for test day, 11th graders should review the attached Student Guide. Also, CollegeBoard® has provided accessible practice tools on their Practice webpage: full-length paper/pencil practice tests, sample questions, and the Khan Academy portal. More information will be shared in the near future about the test day schedule and instructions.
News from the Athletic Department
Consider joining Midlothian High School Athletic Department on Thursday at 7:30 pm for our Virtual Informational Huddle Talk Session. You will be able to hear from our MHS GRASP Advisor (Ms. Andrews) on college financial aid options and how to complete the FAFSA Form as well as learn more about the NCAA Clearinghouse updates from Mr. John Wilson, Virginia State University. Please join us by clicking here. We are excited to offer these opportunities to our students/ student-athletes and parents/guardians.
Winter Sports Parents & Guardians
Thank you for your patience as we navigate through the new procedures and protocols as it relates to COVID-19, game attendance and viewing. We are working to make sure that parents/guardians, students and cheerleaders are able to attend the home games inside the gym area with the 25 person limit. Cheerleaders count as spectators, therefore, each game will not allow for an equal number of fans per athlete. Coaches will have updates as to the games that are optional to attend in-person and how you can purchase tickets for those events. Tickets must be purchased online for $7 and will go on sale the day before the event. At this time, SwimRVA and Indoor Track events will NOT have spectators. Midlothian High School has started using our YouTube Channel – TrojanLive to LIVE stream basketball and wrestling games. Please consider subscribing to our TrojanLive Channel. Thank you again for your patience and understanding during our new ever-changing norm.
Fall & Spring Sports Athletes
The fall sports season will start on Feb. 4th (football) and Feb. 15th for all other sports. Except for football, no other team has set any dates for conditioning at this time. When those dates become available, they will be posted to our athletic website, morning announcements and our social media platforms. If you are on social media, please follow us on Twitter (@10Scollins & @GoMidlo) or on IG (Midlothian High School Sports) to stay up to date on all changes. Each student-athlete must have a completed and updated (after May 1, 2020) VHSL Physical Form on file BEFORE participating in conditioning and trying out for any sport. This information MUST be uploaded to our athletic website.
Model United Nations Club
Midlothian's Model United Nations Club will be making and collecting cards for hospitalized Covid patients. Please help in these efforts and drop off all contributions in the collection envelope by the front entrance through this Friday, January 15th.  Benjamin Ogunde, 11th grade – VP of Community Service, is heading the initiative.
Yearbook Information
Have you not picked up your yearbook yet? What are you waiting for? Our yearbook staff will issue yearbooks Friday, January 15 between 3:30 p.m. – 6:30 p.m. Students should pick up their yearbook at door 1 (the main office).
News from our International Baccalaureate program
Midlothian High is proud to be an IB World School, but have you ever wondered what the International Baccalaureate program is all about? Since 1998, Midlothian has been the proud home of the International Baccalaureate Program, and while students in the IB Specialty Center are given access to the strongest schedule CCPS can offer, many non-IB students are enjoying great college-level electives, such as IB Psychology, IB Languages, IB Theatre, Music and Art, IB Business Management, and new next year IB Sports and Health Science. Did you know rising 10th and 11th graders can still apply for the IB Program (Click here for more details and a link to application form)? On Wednesday, January 20th, there will be an IB informational meeting held during Midlo Morning for all students interested in finding out more about the benefits of the Diploma program, or to hear more about college-level IB electives for the 2021-2022 school year. Current IB students will be there to answer questions and offer their experiences and insights on the program as well. Click here to RSVP, and you will be sent the GoogleMeet Code for the session. See our brochure for more information. as well as the Midlo IB website at  www.midlothianib.com and our social media outlets:
-IB Prospective Student Committee: Instagram, TikTok, Youtube  @interestinmidloib
–IB Student Council Website (link): Instagram and Facebook @midloib/ Youtube @  MidloIBSC
News from our Career Center
GRASP Appointments: meet with Midlothian's GRASP Advisor, Janet Andrews, on Tuesdays 10 a.m. – 4 p.m. (ongoing through April) to learn about college financial aid and to get help completing the FAFSA. Link here: https://calendly.com/midlothian. Contact her at [email protected] or text (804) 223-0854 – for virtual assistance. FAFSA (Free Application for Federal Student Aid) form: complete the form which is available NOW. Deadlines for many Virginia schools are February 1 or March 1. Apply here: https://studentaid.gov/h/apply-for-aid/fafsa. Financial Aid Workshop slideshow: Did you miss the December 1st program with Belinda Hill, University of Richmond Financial Aid officer? Click on the slideshow link for Ms. Hill's overview of financial aid and college costs: navigating the FAFSA and CSS Profile forms, understanding the different aid available, and comparing college funding packages. She can be contacted for general questions about financial aid at [email protected]. Midlothian Scholarship List: bookmark this list to find scholarship opportunities for graduating seniors. Our list is slim right now but will gradually expand this winter. John Tyler CC Foundation Scholarships: JTCC's open scholarship program application is available from February 1 – April 15. See criteria for eligibility on Scholarship webpage. ACT/SAT Strategy Workshops – VCU's Office of Continuing and Professional Education will host several FREE live – online Workshops (Tuesday, January 26 and Wednesday, April 14) for a combined introduction to both tests. The focus will include key similarities and differences, sample questions and strategies. Even though colleges may waive the SAT or ACT testing option for admissions, some scholarships may still require a score in order to apply. Click on the link HERE to register.
Juniors and Seniors
Now is the time to look for (virtual) internships for Summer 2021. These opportunities help to shape career interests and planning. Check out this program . . . VCU's Medical Science Internship Program.  Apply now for summer.
Seniors
Interested in IT? Attend (virtually) the Career Lab at MAXXPotential (an area employer) and start your path towards a paid Apprenticeship. Career Lab is free and open to the public. These sessions are designed to give you an understanding of different careers in technology and to share techniques for getting started. During Career Lab, you can expect to engage in some hands-on problem solving, meet other technology-minded members of your community, and get to know the MAXXPotential core team. Register for an upcoming Career Lab here: https://maxxpotential.com/apprentice/
From the Library
Looking Forward: I know many of us are happy to have 2020 behind us. Students can use THIS LINK to access our dotstorming board where you can share what they are looking forward to in the new year. This could be a new resolution, something students want to accomplish, or hopes for 2021. Students can share by posting words, images or both! Include your name or simply post anonymously. A librarian will approve all posts before going live, so please keep it classy Midlo. 
Virtual Variety Show: Check out new videos each day for DIY maker projects, book trailers, and delicious easy recipes you can make at home! January's theme is "Mind and Body". The first 10 students to message us in Canvas can get ALL the supplies you'll need to make the week's maker project during curbside library pick up on Wednesdays from 2 to 4. Head on over to our YOUTUBE channel to watch. Don't forget to subscribe to get all of our latest updates!
New Books Available NOW! Looking for something new and exciting to read in 2021? Select the New Releases button on our catalog to see what is new to the collection. Don't forget, Curbside Library is still available every Wednesday from 2 to 4 and by appointment. Check out something new TODAY!
Always keep up to date with library happenings by going to our website bit.ly/midlolibrary
A message from the Midlothian HS PTSO
During December the PTSO celebrated our teachers and staff with a holiday lunch featuring delicious fare from The Front Porch Cakes and Eatery. Thank you to Commonwealth Dentistry for sponsoring this treat for our deserving staff. The PTSO also held a Virtual Bingo Night for the teachers and staff. The winners received a family board game as a prize. Thank you to members of the PTSO to help fund this event. The PTSO will hold the January monthly meeting virtually. If you would like to attend on January 13th at 7:00 pm please contact us at [email protected]. Don't forget to enroll in the Community Rewards Programs. These local community partners donate a percentage of anyone's purchases to the MHS PTSO and reduce the need for additional fundraising.  
      Kroger Cares. Go to www.kroger.com/communityrewards and follow the steps provided to create an account and link it.  Enter 82948 in the "Find an Organization" search box.
      Publix Partners. Go to www.publix.com and Log in or Sign Up. Select "My Account" and select by scrolling the right arrow to "My Publix Partner". Enter "Midlothian High School" in the search box, select MHS and then select "Update".
      Amazon.  Offers 0.5% funds on eligible purchases to nonprofit organizations through the Amazon Smiles program. Amazon customers can register by logging onto smile.amazon.com. Enter your Amazon account information and then search Midlothian High School PTSO to select the organization.
Swim Team Fundraising Night with Blaze Pizza
Thursday, January 14 from 5:00 pm to 8:00 pm. Any dine-in or carryout order, if you show them the attached flyer, they will donate 20% of the proceeds back to our swim team. They are offering limited dine-in following Covid Protocols but the fundraiser applies to online orders and carryout as well. No limit on the number of pizzas you can order so get extras for lunch the next day as well. Please help support our team, This was by far our biggest fundraiser last year and these funds are used for senior recognition night as well as the end of season celebration if we can have one, or going forward for spirit activities for next year!!
Blaze Pizza – Midlothian
12701 Stone Village Way
Coupon Code 1176A When ordering online
Any questions please feel free to email [email protected] 
Another way to support our swim team:
NEVER TOO LATE TO MAKE UP FOR A LOST XMAS GIFT OR SHOP EARLY FOR VALENTINES DAY!!
We are also selling PURA VIDA bracelets in MIDLO colors. ONLY $7.00 each while supplies last, don't wait!!! Please contact Coach Simpson at [email protected] if you're interested in ordering a bracelet.
Have a wonderful week and thank you for your ongoing support, and as always, Go Midlo!!!!!!!                
Previously shared information
Attention Seniors!
Don't forget to check out the scholarship opportunities by clicking here. Below, I have shared two recently communicated opportunities.  
– The Justin Matthew Rogers scholarship for 2020-2021 – Available for CCPS seniors who plan to further their education in the behavioral health field. See here for more information. DEADLINE: April 15, 2021
– Chris Jones Innovator Award – Open to Virginia students who meet the following criteria: resident of Virginia, graduating senior and will be enrolled full-time as an undergraduate upon graduation. Details may be found at www.mmbcrva.org/innovate DEADLINE: February 7, 2021
Virtual Schedule and Resources
We will continue to update our Virtual Learning Hub with helpful links and information. For now, the hub includes our weekly schedule and an FAQ document.
What's up with Wednesdays?
Yes, it's true.  Wednesdays are not like our typical school days.  However, please check out our schedule for Wednesdays as our faculty members are available in a variety of ways to support our students. Also, please encourage your student(s) to wake up at the same time and work independently on their school work throughout the day. A phenomenal skill to acquire is the ability to problem solve on their own and our Wednesdays are wonderful opportunities to develop this skill. Please click here to view a short audio explanation of our virtual school schedule, with a focus on Wednesdays. Remind your student to complete this form when they enter a class where they are receiving support from a teacher on Wednesdays. Only complete the form when they attend a Wednesday support session.
Students can also access the form by typing in the following address: bit.ly/MidloSupport
Click here to check out these social work resources available to our students and families.
Bravo Awards!
Do you know a Midlothian HS graduate who has gone on to achieve greatness or make a significant contribution in some form? If so, then please consider nominating a Midlo alum to be recognized as a Bravo award winner. A Bravo award is like the Oscars (minus the quirky speeches), designed to recognize the best of the best among Chesterfield County Public Schools' graduates. Help me add to the display of Bravo recipient banners outside of our Auditorium by nominating a deserving Midlo grad for this prestigious award. I'm confident we have some Midlo graduates who are athletes, entertainers, doctors, lawyers, entrepreneurs, and more, who should be considered for a Chesterfield Bravo award.  Click here to submit your nomination.
Chromebook Support
If you need a Chromebook or assistance with your Chromebook, please visit our CCPS Chromebook basics site for details and locations. For access to the site click here. Please be sure to revisit this website as the school division will update this site periodically.
Internet Connectivity Issues?
Students who need home internet access and participate in the National School Lunch Program can register for information from Comcast for free internet. Visit learnfromhome.ccpsnet.net to register. Families will need to complete the process with Comcast to receive this service. Please call the Midlothian HS front office (804-378-2440) if you need internet connectivity support, but do not qualify for the National School Lunch program. We will add your name to a need list, assess your situation, and provide the best support available.
Library Curbside Service
With our move back to virtual our school library is shifting back to Curbside Library. All the books your heart desires are now available for pick up every Wednesday from 2:00pm to 4:00pm and by appointment. Students can order books by going to bit.ly/midlocurbside.
How to have messages sent directly to your student
Do you want to be in the know? Well, if your parents are not sharing the information they receive from our Midlo messages, then sign up now to receive the messages directly to your own phone and email. To do so, simply complete this form or visit bit.ly/MidloMessages, to receive messages directly to your mobile phone and email. Remember, students do not have a school-issued email with their id#@ccpsnet.net.  That address only allows access to their google drives and related resources. Ask around, these messages are all the rage, don't be left on the outside looking in. Sign up now!
Mental Health Support
If you and/or your teen are in need of strategies or support for Anxiety or other Mental Health Needs, please visit the Mental Health Resources section of the Virtual Learning Hub. Our "Online Relaxation Room" is one resource your teen will find in the Midlo Suite Spot:."
Did your student miss an announcement?
Fear not, our morning announcements can be found on our school website – just scroll down to the section titled, "Morning Announcements".  For example, you can learn very important information, such as, today is National Homemade Cookies day.