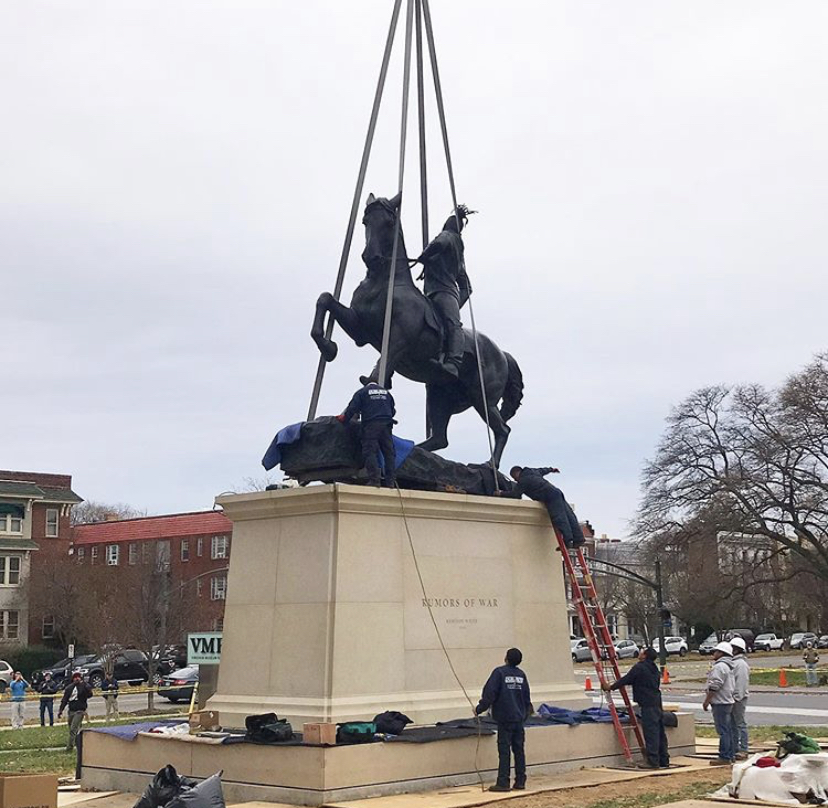 Conan Darrah
On Tuesday, December 10, 2019, the Virginia Museum of Fine Arts unveiled its newest installment, a sculpture that acts as a political, social, and historical statement, in addition to its merits as a work of art. Rumors of War, created by Nigerian-American portrait artist and sculptor Kehinde Wiley, stands tall at the entrance of the museum. Known for his African-American influenced pieces, more specifically his portraits of both former President Barack Obama and First Lady Michelle Obama for the Smithsonian National Portrait Gallery, the sculpture taps into the vein of Richmond's Confederate past, serving as the capital of the Confederacy during the Civil War period and coming to terms with the course of history. Cast in bronze, the sculpture itself is Wiley's largest work to date, standing in at 27 feet tall, 25 feet long, and 15 feet wide, all standing atop a giant limestone pedestal. A young black man, sporting Nike shoes, ripped jeans, hoodie, with dreadlocks gathered atop his head, while riding a muscular warhorse contrasts the Confederate statues that line Monument Avenue, as Wiley pulled inspiration from the monuments of Robert E. Lee and Jefferson Davis. The title of Wiley's artwork alludes to Jesus' speech from Matthew 24:6: "You will hear of wars and rumors of wars, but see to it that you are not alarmed." "The idea is that in the 'change times,' there will be wars and rumors of war… And there are moments where art has to step in," Wiley said of the sculpture.
In recent years, state lawmakers of Virginia have questioned whether the Confederate statues should be removed or contextualized, considering both the dueling historical and social pressures. A notable example of this tension occurred during the 2017 Charlottesville riots, where the Unite the Right white nationalist rally quickly turned into a deadly ordeal. Plans to remove a Confederate statue from a local park ignited the fuel of the rally's explosive anger, drawing violent protests by masses of white nationalists, Klan members, and Neo-Confederates. The direct murder of Heather Heyer and injuries of more than 19 people from the direct collision of white supremacist James Alex Fields Jr.'s car plunged the rally into a proclaimed "state of emergency" from Virginia governor Terry McAuliffe. Wiley aimed to encapsulate these bouts of conflict over the moral and practical means of the monuments; Rumors of War acts as a bridge between this debate and the historical resonance it has on society. Richmond Mayor Levar Stoney spoke at the unveiling ceremony, proclaiming, "See, Richmond, we have a complex history," adding, "We've got the good, the bad, and the ugly. All right? But this monument firmly establishes that our city is not living in the past but embracing the future and the good."
Previously displayed in Times Square in New York City on September 27, 2019, Rumors of War found its permanent home in Richmond, directly across the street from the 1800's war figures.  During the unveiling ceremony, held at the VMFA and attended by crowds of musicians, students, historians, Mayor Levar Stoney, and the artist himself, Wiley spoke about the impact the Confederate statues have on both himself and the population of African-Americans throughout Richmond's history. "I'm a black man walking those streets," said Wiley. "I'm looking up at those things that give me a sense of dread and fear. What does that feel like — physically — to walk a public space and to have your state, your country, your nation say, 'This is what we stand by'? No. We want more; we demand more; we creative people create more. And today, we say yes to something that looks like us; we say yes to inclusivity." The artist's contribution to the city of Richmond has sparked interest not only from locals, but by visitors from across the United States, utilizing the city, and its Confederate past, as its backdrop.