Freshmen honor military veterans
2019 Veterans Day Assembly
On November 9, 2019, the Freshman class attended a Veterans Day assembly during Midlo Morning in the auditorium. The Class of  2023 learned about Veterans Day, honoring those who have  sacrificed for our country. Captain William Jay Bailey, Jr. spoke about Veterans Day and conducted interactive activities for the freshmen to participate in.
The assembly began with Midlo senior George Welch singing the National Anthem. Then, Mr. Bryan Vannoy introduced Captain Bailey. Bailey is a member of the National Reserve and has three children who have graduated from Midlo. His daughter Brooke graduated in 2018 and is now at the Naval Academy, following in her father's footsteps. After the introduction, Bailey explained the history of Veterans Day to the students and its importance, emphasizing the significance of four qualities: commitment, duty, teamwork, and leadership. Captain Bailey also informed the students of ways to assist military veterans and their families, including: sending care packages, cooking and delivering meals, and donating supplies. Finally, he conducted  a Jeopardy game with the freshmen, awarding prizes of Navy t-shirts, water bottles, and sweatshirts.
Freshman Kathryn DuVal  remarks, "It was an eye opening experience because we could see into the lives of people and their families in the military." After the assembly concluded, the freshmen left the assembly feeling inspired and educated about veterans and how they may make a difference in their lives. 
About the Photographer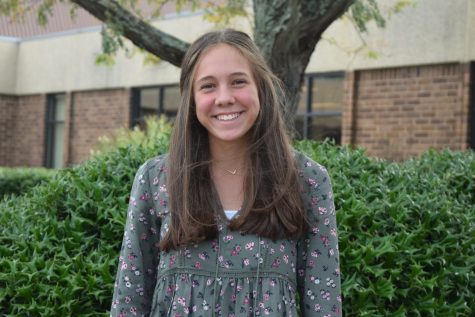 Lauren Cassano, Midlo Scoop Staff
Lauren Cassano, Class of 2022