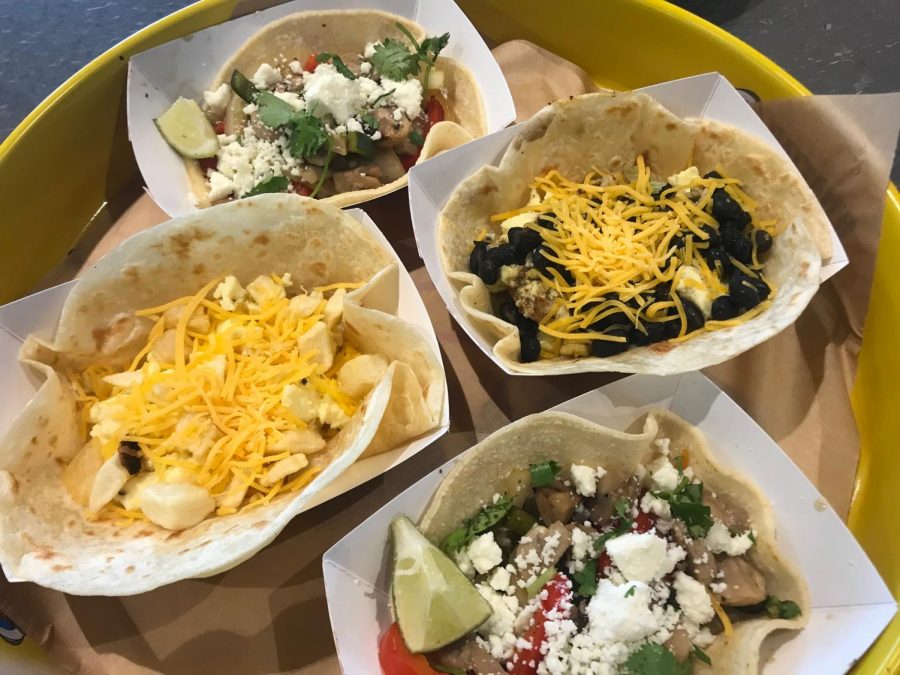 Maddie Burke
Located in the continuously growing Westchester Commons, Rusty Taco opened its doors for business on September 23, 2019. Since then, the unique restaurant chain, which originated in Dallas, has continued to grow in popularity among the Midlo community, offering authentic and flavorful tacos in an upscale fast food environment. 
On opening day, enthusiastic customers lined up outside of the restaurant for the opportunity to win free tacos for a year. Families and students woke up at the crack of dawn to be one of the first fifty customers at the 7 a.m. opening. These winners received a coupon book for three free tacos and a side every week. Midlo junior Charlie Wilkinson, a recipient of the free tacos, explains, "I love the quesadillas and sides at Rusty Taco, and I'm excited to get them for free every week." 
Upon walking through the doors, Rusty Taco creates an energetic environment with vivid red, blue, and yellow walls. Choosing from the options on the large menu located above the cashier, customers order using the number of their desired taco or side. When ready, employees announce the customer's name on the loudspeaker for pick up. After ordering, the meal is ready in minutes, providing fast and convenient service. Customers can choose from outdoor seating and high bar seats. Upbeat music plays throughout the restaurant and multiple TVs, which play sports for entertainment, line the walls,
Rusty Taco's extensive menu offers a wide spread of tacos, sides, and even desserts. Favorites include: the signature Rusty Taco, filled with pork, pineapple, and onion and seasoned with cilantro, as well as the BBQ Brisket Taco and the Fried Chicken Taco. All day, the restaurant serves a spread of breakfast tacos as well, featuring the choices of eggs, cheese, sausage, and potatoes. Each handmade taco comes with the choice of corn or flour tortillas. The restaurant also offers numerous sides, including the authentic cup of warm, spicy queso, which comes with a basket of refillable chips. Rusty Taco also prepares ice cold margaritas and fresh lemonade to accompany the delicious eats. 
Although relatively small, the Rusty Taco sells their tacos for a low price, ranging from two to four dollars, which allows customers to try multiple types at once. With authentic street style tacos bursting with flavor, Rusty Taco appears to be a promising addition to the Midlothian area.