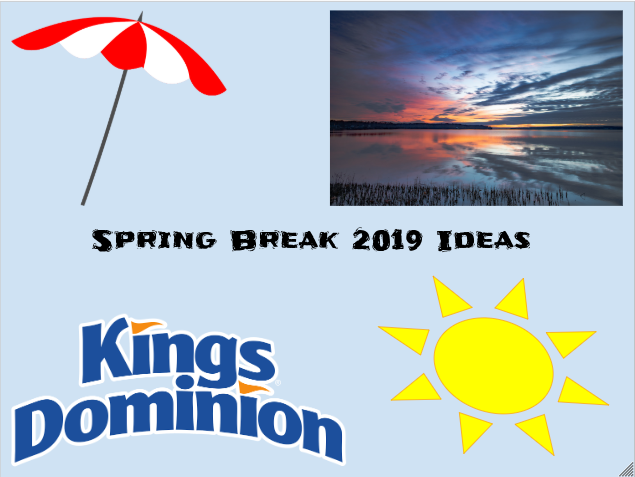 Emily Vanlandingham
As each day brings students closer to Spring Break, some students wonder what to do during their time away from school. Some may choose to travel to exotic destinations, like the Caribbean, Puerto Rico, and Hawaii, while others may choose to stay closer to home. Virginia has many amazing places to visit, whether you wish to seek thrills at an amusement park, try a new restaurant,  or simply spend time with friends and family. Midlo Scoop has ten suggestions for Spring Break.
Visit nearby amusement parks, including Busch Gardens  and Kings Dominion.
Slide away at water parks, like: Water Country USA, Great Wolf Lodge, and Cameron Run Regional Park.
Dine at local restaurants, such as: Lemaire, The Roosevelt, and Pasture.
Stroll through museums, particularly Virginia Museum of Fine Arts  and Science Museum of Virginia.
Enjoy nature at Belle Isle and Brown Island.
Take a chilly dip in the lake or just enjoy the scenery at Lake Gaston, Salisbury Lake, and Lake Smith
Picnic at Robious Landing Park.
Explore Virginia Beach.
Venture to Pony Pasture and the James River.
Shop at Carytown.