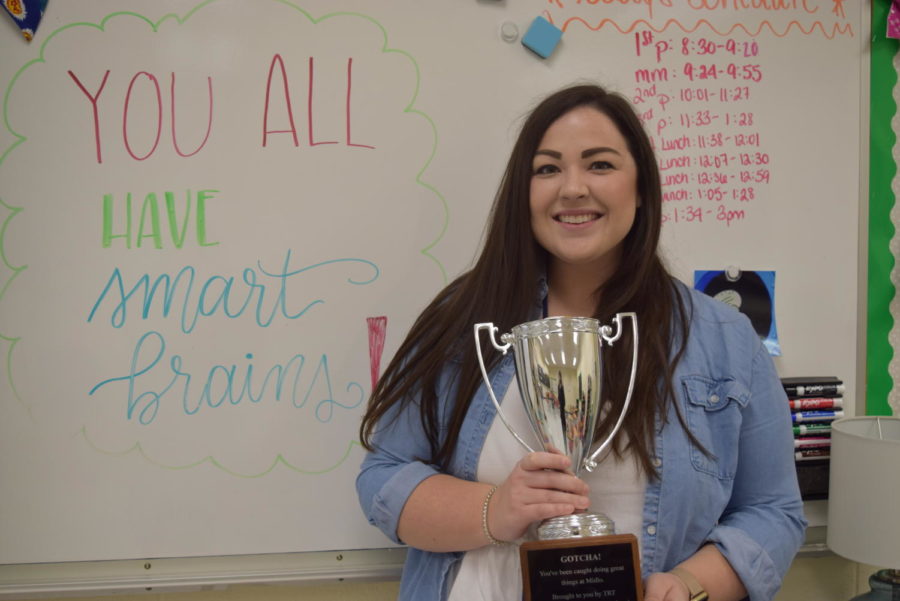 Emily Vanlandingham
On Tuesday, February 5, 2019, first-year English teacher Ms. Emily Pfund received the Teacher Recognizing Teachers award from Mrs. Amy Woody. Ms. Pfund holds great relationships with her students as a first year teacher and her teaching is "engaging, fun, complete learning experience,"  shared Mrs. Woody.  Before she started teaching at Midlothian High School, she student-taught at Midlothian last spring with Mrs. Jennifer Fischer. She also has coached Midlo's Varsity Cheer team for several years. Her dedication and work ethic shows immensely with her students inside of school, impacting both the school and the community.
How do you feel about receiving this recognition as a first-year teacher?
I was so surprised! As a first-year teacher, I am still figuring how to juggle creating lessons, grading papers, and teaching at the same time. It always feels great when someone recognizes the hard work you've been putting into something.
Why did you become an educator?
Ever since I was old enough to talk, my answer to the question "what do you want to be when you grow up?" has always been "a teacher". I love getting to be a part of so many young people's lives. It's so rewarding to see how much my students grow throughout the year.
What is your favorite part of teaching at Midlothian High?
My favorite thing about Midlo was how easy it was to jump right in! Even though I am new, I immediately felt connected to the school community and school spirit.
Why did you choose to come to Midlo for your first year of teaching?
I attended Midlothian as a student, so coming back to teach here feels a lot like coming home. I started coaching cheerleading at Midlothian last year, and I also completed my student teaching here. Since I already knew some of the students, I had already figured out that the very best kids go to Midlo. I love coming to work every day!  
Why did you choose to become an English teacher?
Teaching English is so rewarding. Every day, I have the opportunity to expose my students to new ideas or ways of thinking through literature. When I teach writing, I am teaching them how to use their voices. I know these skills will benefit them throughout the rest of their lives, and I feel lucky to be a small part of teaching them how to develop these along the way.