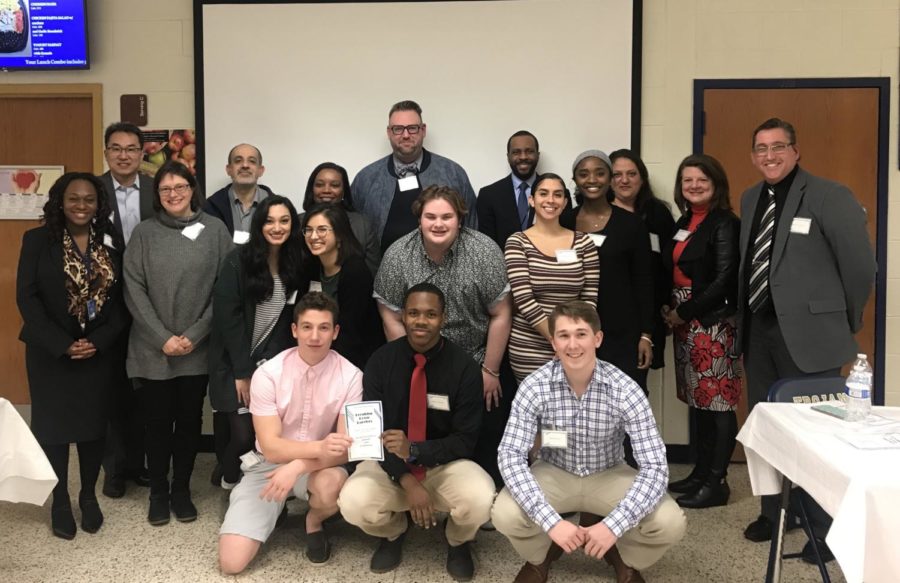 On February 13, 2018, Midlo's Breaking Down Barriers Student Advisory Council hosted a mix of guest panelists, administrators, students, and faculty in the closed commons to discuss social inclusion in schools and the community of Midlothian. Breaking Down Barriers is a student advisory group that works with issues of diversity and inclusion. It came to Midlo last year and is in place to advise administration from the students' perspective  The Breaking Down Barriers event was open to anyone at Midlothian High School who wanted to engage in a discussion regarding the state and possible betterment of social inclusion for students, employees, and community members alike.
Club sponsor and Dean of Students Mrs. Christina Frias kicked off the discussion by welcoming the crowd gathered in the open commons, giving a special welcome to Superintendent Dr. Mervin Daugherty. She then introduced the hosts of the events, the Student Advisory Council of Breaking Down Barriers, which includes the following students:  Karrington Barrett, Austin Belt, John Jennings, Emile Judson, Fariza Kareem, Maggie McDermott, Will Morris, Emma Rice, and Rachel Rivera. Kareem, Judson, Rivera, Rice, and Belt, each supplied the audience with a little background information about the club, encouraging the group to keep an open mind to ensure effective discussion.
Assistant Principal Mr. Robert Gifford spoke to the audience following the student council, sharing results from surveys taken by Midlothian High School students, which state that hundreds of kids at the school see stereotypes and judgment at school, but do not have the ability to stop them from spreading. It also showed a chart of the stereotypes students voted to be most prominently judged at school, and many of these labels apply to hundreds of kids at Midlo. He acknowledges that a problem exists, which is shown through the survey results, and hopes that Breaking Down Barriers can lead to a step in the right direction to help put these stereotypes to rest.
He then introduced the guest panelists, who joined Breaking Down Barriers members in the audience to help speak out on some of the issues, including: CCPS Director of Equity and Student Support Services Dr. Tameshia Grimes, VCU Muslim Student Association Faculty Adviser Dr. M. Imad Damaj, Side-by-Side Executive Director Ted Lewis, Chesterfield NAACP Education Committee Chair Carrie Kahwajy, Midlothian High School parent Tammy Clamann, Asian & Latino Solidarity Alliance of Central Virginia Community Engagement Director Erin Lin, VCU Adjunct Assistant Professor Dr. Kim Bridges, and VCU Associate Vice Provost of Student Affairs Justin Moses. 
Each of these panelists joined a member of the Student Advisory Council to speak out against the issues that Midlo faces regarding diversity every day. About the discussion, Mr. Gifford shared, "I thought the Breaking Down Barriers students were fantastic. They were helpful and stepped up to make it a successful evening. We had been planning this event for several months and were very impressed by the perspectives of the panelists there. Everyone who attended walked away more knowledgeable about issues of inclusion in the school and the community." Organizers encourage confidentiality regarding some of the topics mentioned during the event, but the audience still received the opportunity to ask questions or clarify an issue about/with the topics discussed during the discussion, and this helped them take away even more from the enlightening event.
Mr. Gifford added, "The student group was highly motivated because they want to increase awareness of these issues in Midlothian High School. The student survey we took shows that there is a large need for reform for issues of diversity and inclusion, and we felt the night was a successful step to help fix these issues." The event participants held a successful discussion of social inclusion in schools and throughout the community, which raised awareness of issues that not all members of the community notice, providing a positive step for Midlothian High School and the Midlothian community.