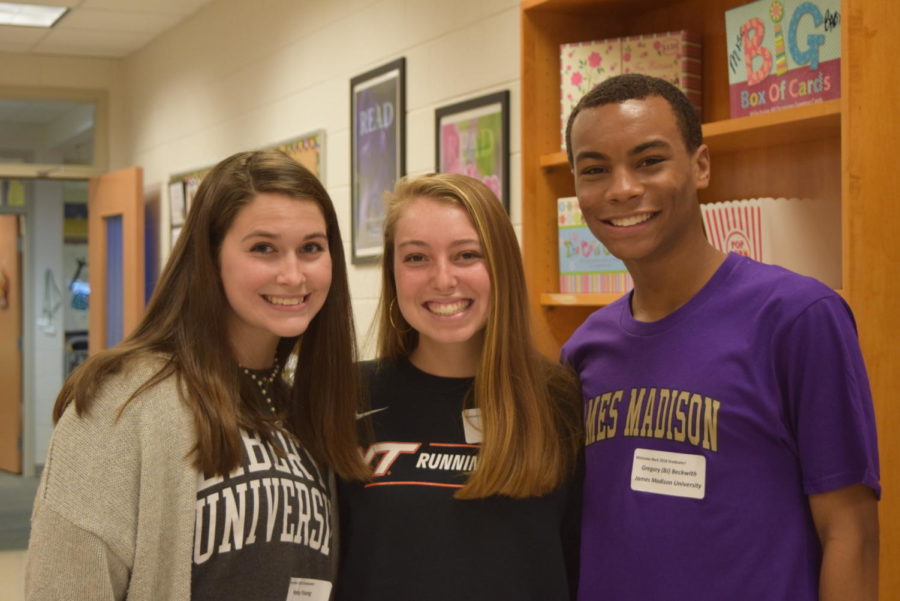 Zoe Kopidis
On Thursday, January 3, 2018, Midlothian High School graduates from the Class of 2018 returned to their alma mater to pass on their newly acquired college wisdom to juniors and seniors. The following current college freshmen came back to Midlo and shared everything they wish they knew when applying to colleges and in high school: Dilpreet Jaswal, Kyle Daniluk, Katie Daniluk, Addie White, Eva Johnson, B.J. Beckwith, Finlay Raphael, Hanna Cottrell, Haley Young, Meredith Puster, Morgan Gilbert, Kennley Elliott, Spencer Dornman, Paul Covert, Elijah Dornman, Calvin Fuller, and Bryce Mann.
Katie Daniluk upheld the number one rank while at Midlo, and she now attends the University of Virginia. She talked to Mrs. Yvonne Mullin's accounting class about her experience in high school and so far in college. Abigail Graves and Maddie Lloyd thoroughly enjoyed her speech; Graves shared, "She told our class she has gotten straight A's since middle school, and I thought that was so impressive." Daniluk continues her hard work in college, passing on the importance of putting hard work above other distractions.
Dilpreet Jaswal discussed his work at Virginia Tech in front of the class of his former math teacher, Mr. Sharobim. B.J. Beckwith shared how Midlothian High School thoroughly prepared him for all of his classes at James Madison University; he expressed that all of his AP classes made his college experience extremely positive. Meredith Puster (CNU) and Noah Dornman (Longwood) spoke to Theatre classes about their colleges and what college life is all about.
Midlo's graduates helped to answer questions for juniors and seniors with numerous concerns regarding their future college experiences as they continue to prosper outside of Midlo.