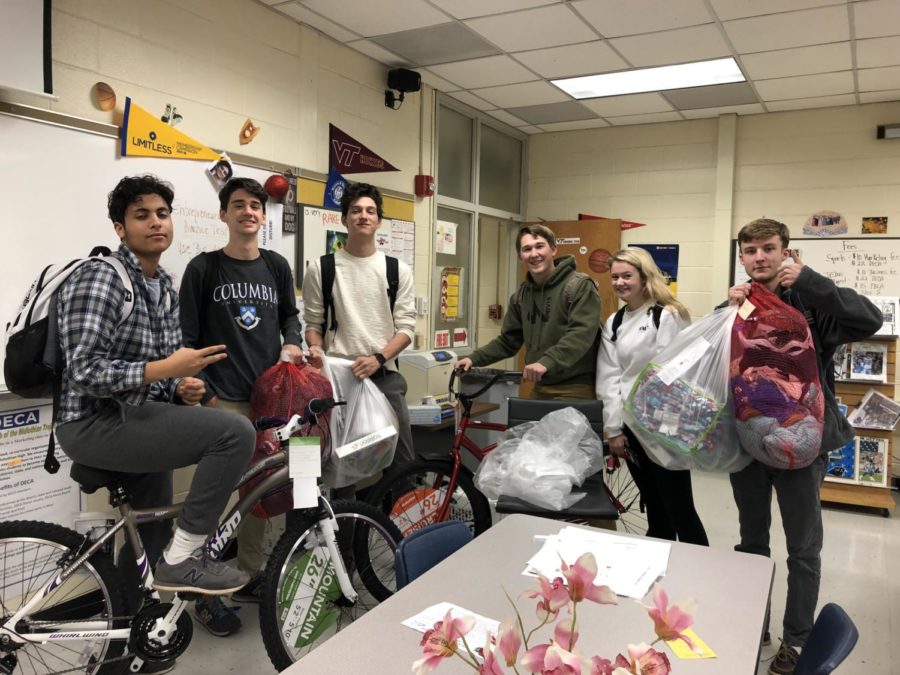 Ashley Manheim
On Thursday, December 6, 2018, Midlothian High School's DECA chapter celebrated the holiday season during Midlo Morning with the annual holiday social. Roughly 50 members gathered in club sponsor Mrs. Carolyn Manheim's room for the event, enjoying the assortment of drinks, candy, cookies, muffins, and Dunkin' Donut Munchkins. Former Midlo show choir student Trevor Christmas provided entertainment at the social, as he sang Mistletoe by Justin Bieber, Stitches by Shawn Mendes, and a few other of his favorite songs. Christmas' brother, current Midlo junior, and DECA member Derek Christmas attended the social and enjoyed watching his brother perform, and along with the rest of the crowd, clapped thoroughly following every tune. Adrian Cox exclaims, "The social was a great time, and I'm so glad I joined DECA and was able to participate."
The club deserved celebration after raising an impressive $600 for two different children through a program known as Angel Tree for their Christmas community service project this year, a sum larger than any project in Midlo DECA. William Galleher comments, "I was really encouraged to donate, and I'm very glad I participated in Angel Tree this year." Because of all the generous donations from Mrs. Manheim's class, the club provided each child with a bike, multiple clothing items, and toys.
DECA Community Service Representative Elyas Aldughaish developed a passion for helping others last year through DECA, and he continued on his journey this year through participating in the Angel Tree. He joined Mrs. Manheim as they shopped for gifts for the children, and he shared that multiple students approached him and explained to him that his generosity last year with the service project motivated them to donate as well. He continues to make an impact on Midlothian students, as well as the people of Virginia, through DECA, such as when he donated and passed out 100 Subway sandwiches to homeless people in Richmond.
DECA will continue to participate in community service projects for the remainder of the year, and they plan to continue to make a positive impact on the Midlothian community in the coming year.