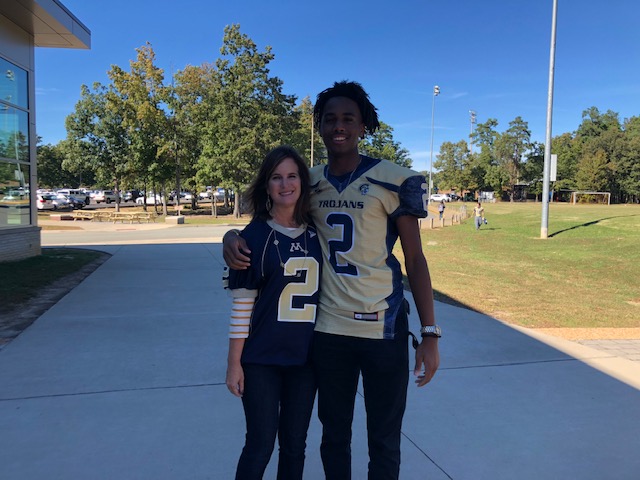 Sophie King
In honor of Midlothian High School's Football Senior Night, on Friday, October 19, 2018, each senior football player took a trip to his favorite teacher's classroom in the morning before school and gifted them with their game night jersey. Coach Matt Hutchings began this exciting tradition in the 2017-2018 school year in order to incorporate teacher appreciation into Senior Night, and decided to continue it into this school based on the positive reaction it received from the players and faculty alike. Each graduating player passes on his jersey to a teacher to wear for the day in support of that student in the game that night, and in choosing a teacher, they demonstrate their gratitude to that specific individual. In addition to the jersey distribution, all football players deliver a "Certificate of Appreciation" to a teacher whom they feel deserves recognition for their dedication.
This year, Aidan Clevinger gave his jersey to Mr. Adam Layton; John Jennings asked Ms. Dawson to wear his; Chandler Dodge wanted  Mrs. Molly Palenski to don his for the day; Jacoby Martin gave his to Mrs. Carolyn Manheim; Brayden Staib requested that his favorite teacher, Mr. Chris Eliot, wear his; Frankie Falchi gave his to Mrs. Rachel Aiello; Will Pomeroy offered his to Mrs. Yvonne Mullins; Austin Belt delivered his to Mrs. Allison Crerie; and Neil Richburg asked Mr. Danny Abell to wear his jersey. Players chose their respective teachers for different reasons, but they all feel grateful to these individuals for encouraging them to succeed throughout their high school careers. Of Jacoby Martin, Mrs. Manheim says, "I was very honored because Jacoby is such a good student and a great person. He is so kind and always appreciative of his teachers." Mrs. Manheim taught Martin in two of her classes last year, IB Business Management and Sports Marketing, so the two bonded with the extra time.
Many of these teachers came to support their seniors in the last home game of their high school careers against Cosby High School, which ended in one final win for Midlo before they face off against Monacan next week.