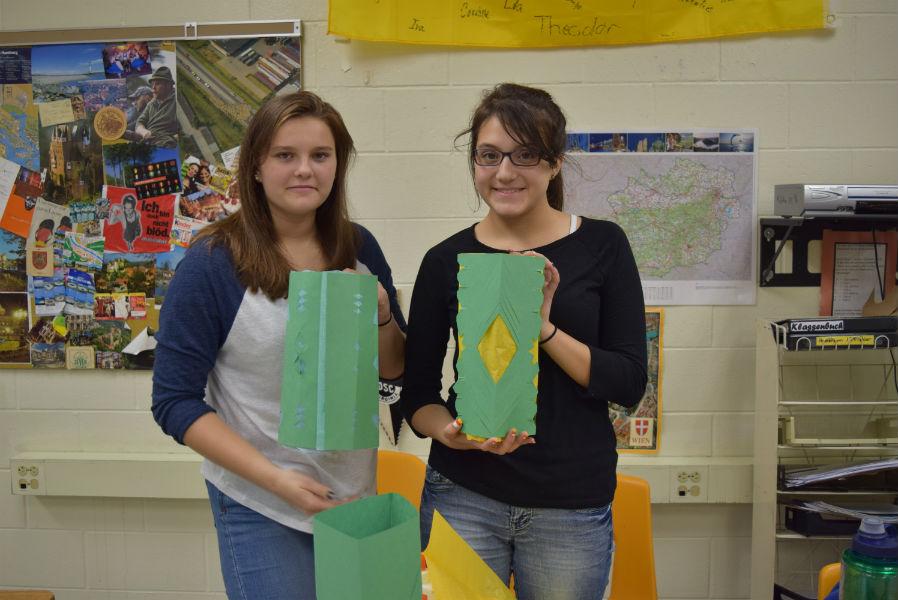 Along with sophomore Nora Carlucci's upbeat, positive, and enthusiastic personality comes a great deal of academic success and hard work, both inside and outside of the classroom. The dedicated, outgoing outlook Carlucci sports with all school activities is one of the many reasons Principal Shawn Abel and the Midlo faculty named her the grades 9/10 2017- 2018 School Year Student of the Year.
Not only is she a member of Midlo's respected IB program, but Carlucci's academic plate is also full of challenging classes, even as a sophomore. She is enrolled in AP World History and Dual Enrollment Pre-Calculus, two extremely difficult courses offered at Midlo. She is studious and continues to succeed in school, despite these difficult classes, and plans to take many challenging courses next year as well, as she continues with the IB workload.
In addition to her academic work, Carlucci also participates in numerous after-school activities. This past marching band season, Carlucci entertained audiences at football games and competitions as a member of the Trojan Color Guard. She also is a member of Midlo's Show Choir, which demands quite a bit of her time. Carlucci also participates in a Christian girls scouting group called American Heritage Girls; through this activity, she works on badges, goes camping, and does service projects in the community, such as delivering cookies to fire stations and Operation Christmas Child.
Along with her other activities, Carlucci grew a passion for theater throughout her time on the cast of Fiddler on the Roof, a play she performed in this year. "I absolutely loved it! It gave me a new passion and interest in the arts and a new focus from my school work," Carlucci remarks about her time in the play. She also participates in Midlo's all girls a capella group, Pitch Perfect, in which she has learned a lot about singing and enjoyed immensely. "It is so much fun to have the seniors lead us into harmony," she explains; "also, it is a very chill after school activity to do to de-stress myself.".
Not only does Carlucci make an impact in the fine arts at Midlo,  she also is an active member of the Latin community. She is a Latin Club officer, as well as a Co-Elementary School Teaching Chair with her fellow Latin student, Alex Murias. Along with Murias, Carlucci leads a Latin program after school for first graders and teaches them basic Latin to encourage them to start studying the language that Carlucci has developed such a passion for once they get into middle school.
Despite this incredible award, Carlucci remains humble, saying: "I don't feel that I deserve student of the year because I know so many other students that work harder than I do and do more activities than I do and deserve recognition to keep them going. I was extremely surprised when Mr. Abel said it on the announcements." She also recalls with a laugh how she worried that she was in trouble when she was called to the office to receive her award.
Congratulations Nora Carlucci, on this amazing achievement!