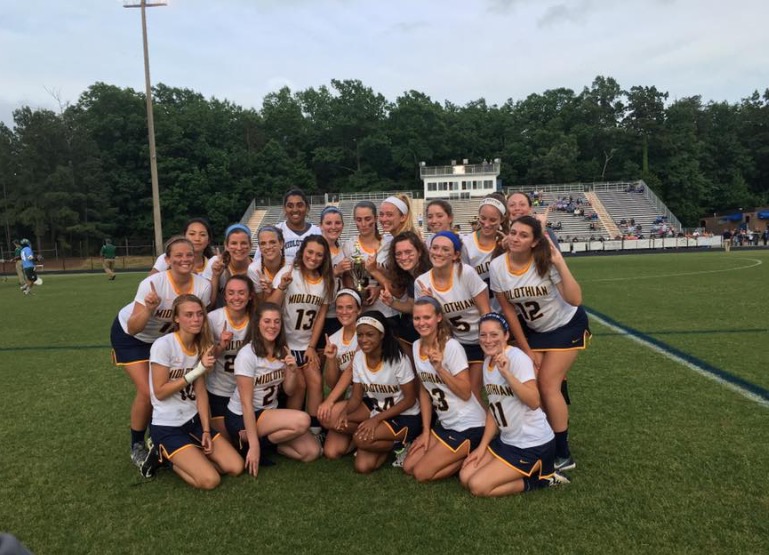 DeVoe Reagan
Coming off of last year's 2O Conference victory, Midlo Girls Lacrosse has been busy in preparation for the 2018 season, during which they plan to come in with full force. The players participated in fall ball and conditioning as well as indoor games against other high schools at XL Sports World.
Tryouts were held on February 19-21, 2018, where coaches Sean Manson , Devoe Reagan, and Joanna Richie composed the 2018 roster. With the loss of nine Midlo graduates, the team is a mix of fresh new players with seasoned returners. Returning is last year's captain Olivia Harriman and Katie Call, who has recently committed to Belmont Abbey, along with the other seniors: Claire O'Brien, Jenna Kyte, and Irish Kulas.
Harriman believes that during this season, the team's main strength will be unity, explaining, "Last year, we had talent, but we didn't really have unity. We have a young team this year but also a lot of potential. Sometimes more unified teams are more successful than teams who are solely put together based on talent.".
Head coach Sean Manson summed up his main goals for the season in three words: teamwork, sportsmanship, and growth. "When the season ends, regardless of the record, I want every player to say they are better at lacrosse and grew as a person." The team has already progressed in this goal, as Manson said, "I have already seen growth in teamwork from the short time we have been together and am excited to see it grow even more as the season progresses.".
As they enter upcoming scrimmages, the team looks to build team chemistry and strengthen their play. This year, Midlo will face tough competition, including: Atlee and their rival, Cosby. Their first game will take place on March 7, against Lee Davis.