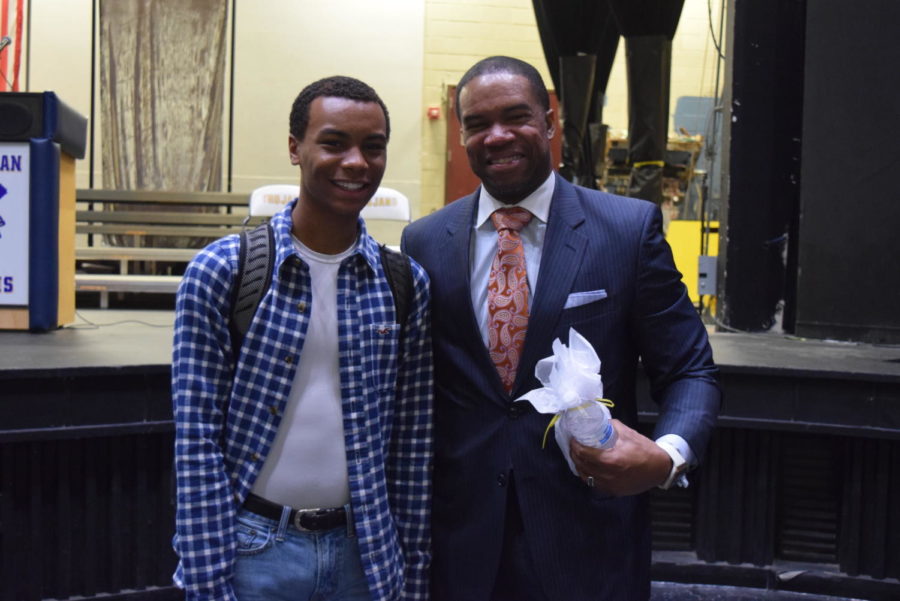 Midlo Scoop Staff
On February 16, 2018, students whose teachers recommended them for the Core Values Award for Honesty were invited to enjoy a Chick-Fil-A breakfast in the auditorium during Midlo Morning after listening to the words of congratulations and advice from Keynote Speaker, CCPS Chief of Schools, Dr. John B. Gordon, III. Family members gathered to share this special nomination with their children. Both Assistant Principal Mr. Robert Gifford and  Dr. Gordon,  spoke to those in attendance about the importance of honesty and all that this important trait adds to the school and to the community.
The assembly began with a moment of silence for the victims of the tragic shooting at Marjory Stoneman Douglas High School in Parkland, Florida. Assistant Principal Gifford introduces the event's keynote speaker, CCPS Chief of School, Dr. John B. Gordon, III, who took time out of his day to come speak to the students receiving the honesty recognition.  Dr. Gordon talked about the importance of being an honest individual, not only in Chesterfield County, but wherever their paths takes them. He mentioned a quote by Thomas Jefferson that stood out to him: "Honesty is the first chapter in the book of wisdom."  Dr. Gordon thanked the Midlo students for incorporating the core value of honesty into their everyday lives and encouraged them to embrace that leadership and spread it through the school and the community.   Junior Core Values recipient Caitlin Woods said, "The message that Dr. Gordon gave in his speech really stood out to me, and I will be keeping that in the back of my mind.".
After Dr. Gordon's words of wisdom, the students and their families enjoyed a complimentary Chick-Fil-A breakfast, courtesy of the PTSO and Midlo's partnership with Chick-Fil-A. Congratulations to the Honesty Core Values Award recipients for their consistent sincerity and demonstration of honor through honesty, both inside and outside of the classroom.