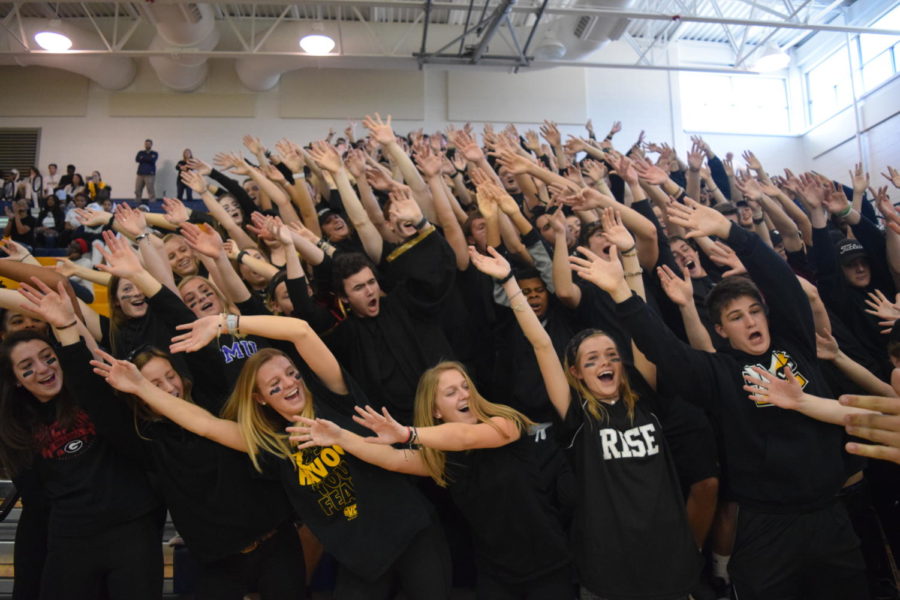 Eva Johnson
School across Chesterfield County recognize Midlothian High School for its iconic pep rallies, marked by non-stop excitement, action, and energy from the students and staff. The seniors grabbed the win in this year's Homecoming Pep Rally, with sophomores close behind, followed by juniors, and then freshmen. Ever since the last pep rally, when sophomores surpassed the juniors in pep rally spirit, a competitive rivalry formed between the two classes. The competition finally came to an end on Friday, January 26, 2018, as the long-anticipated 2018 Winter Pep Rally finally kicked off after being postponed a week due to snow cancellations.
The students counted down the minutes until the announcements released them from class; they stormed into the gym, eager to secure a great viewing spot for the event. First, the students competed in the three point competition. Senior Ben Clarke excelled in this competition, landing an impressive amount of shots for his class. Despite Clarke's respectable basketball skills, the freshmen defeated the seniors, when Alec Townsend launched the winning shot to end the game. Following the basketball competition, the students competed in a balloon-popping race, in which Katherine Krievs, Caroline Bowe, Drew Blankenship, and William Galleher's incredible agility led them to another freshman class win.
Following the pep rally games, the classes delivered their dances, trying to prove that their class boasted the most talent. First, the freshmen competed in their very first pep rally dance, which Ethan Kochell starred in, wowing the crowds with an amazing jump-split. The sophomores showed how much they stepped up their game since their own freshman dance, surprising the crowd with their impressive number, choreographed by Owen Buleza. Johnny Buban showed off his break-dancing skills in the dance, evoking cheers from his peers in the crowd. The junior dance impressed the crowds with its action and excitement, which landed them in first place for the dance competition.  Lauren Hensley, Da-Lan Plam, and Sydney Barefoot choreographed their dance, and Junior Class President Sujeet Alwin,  starred in the performance. The seniors performed their very last class dance competition, starring John El-Jor, who showed off his impressive dance skills.
The Trojanettes and the Midlo cheerleaders also performed throughout the pep rally, each evoking loud cheers from all the classes. The Midlo Drum Line also played throughout most of the pep rally, adding suspense and noise to the amazingly chaotic event with their drums.
The seniors again obtained the spirit stick for their class in the Winter Pep Rally by placing first, with the juniors and freshmen following closely behind in second, and the sophomores in third. The 2018 Winter Pep Rally definitely succeeded in becoming one of Midlo's most iconic pep rallies yet.
For more spirit wear coverage,  click here.