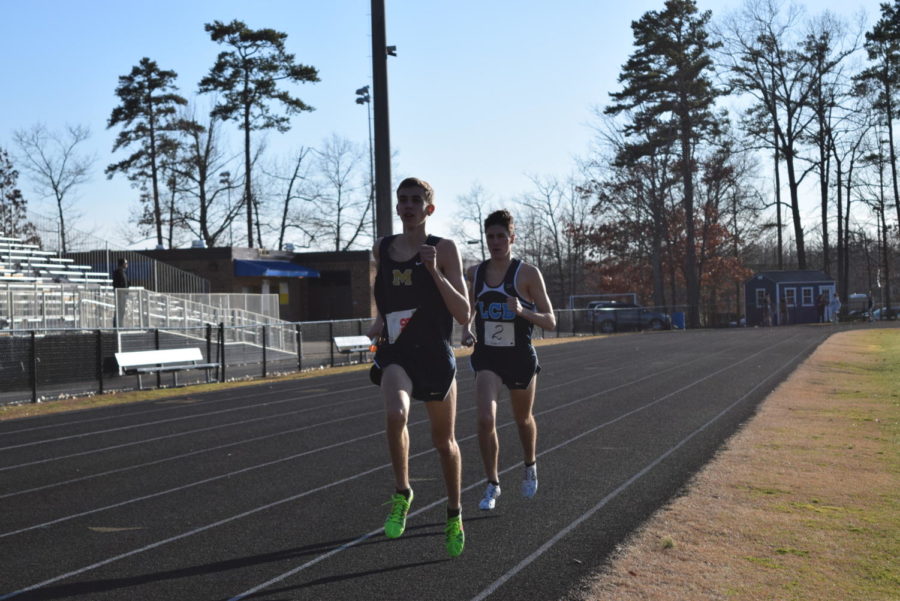 Maddie Burke
On January 23, 2018, and January 24, 2018, Midlothian High School hosted the second of three Polar Bear meets. Unlike most meets held at indoor facilities, these take place outside on high school tracks.  Cosby, Clover Hill, James River, Monacan, Manchester and Midlo, all participated in the event. After school, Midlo athletes arrived at their home track and prepared for the waves of schools  to arrive. Coaches Stan Morgan and Dan Ward ensured that the meet would run smoothly, setting up the events.
Wednesday, January 23, the first of this two-day meet, contained all field events, the distance medley relay, the 3200 meter run, and the 4 by 200 meter relay. The day greeted runners with unusually warm weather, boosting the mood of the athletes.
First, the distance medley relay, which consists of four runners completing various distance events, took place. Since this meet provided the first opportunity for Midlo athletes to participate in the event, they met the challenge with excitement and anticipation. Midlo executed it well, with boys placing first and girls placing second. Freshman Caroline Bowe commented, "I enjoyed the DMR because I liked working with my teammates.".
Midlo also came out on top during the girls 4 by 200 relay, with the team ranking 2nd among the rest of the schools. For field events, senior Addison Sanders proved victorious on the high jump, trailed by Erin Babashak. The boys also performed well, with Ryan Townes placing first on the high jump, along with Brayden Staib placing second on the shot put. 
The next day, athletes arrived again to compete in the second and final day of the meet. The runners endured the cold, as they completed the day's events, including the hurdles, 55 meter dash, 1300 meter run, 500 meter dash, and 300 meter dash.  Freshman Dasia Hardy kicked off the meet by setting the bar high, placing 2nd overall on the 55 meter dash. The girls dominated the 1600 run as well, with freshman Caroline Bowe placing first, followed by Chloe Martin, then Alex Murias.
With a successful season coming to a close, the team will soon begin preparing for their post-season. Good luck to Midlothian Indoor Track as they continue to Regionals and States.