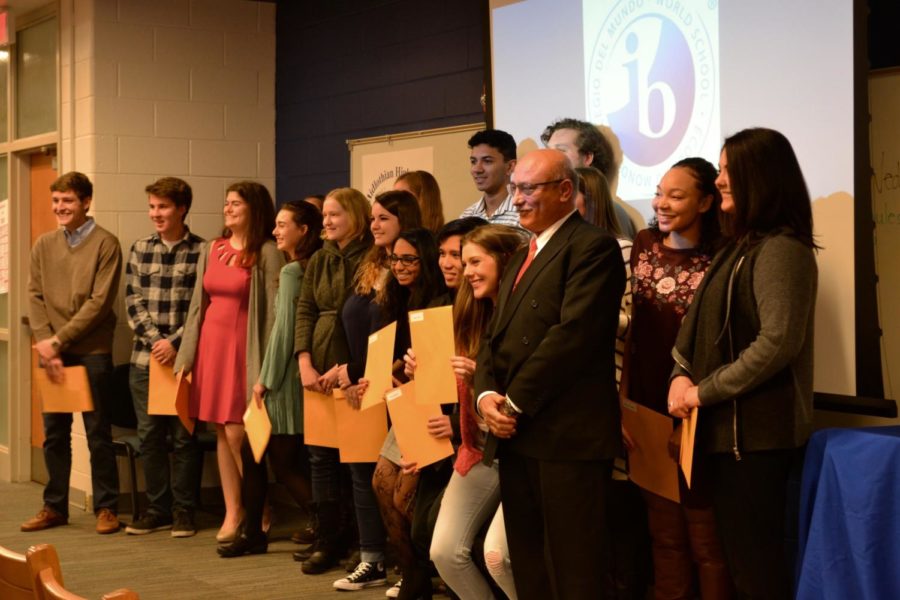 Nabiha Rais
The International Baccalaureate (IB) Program expects dedication, commitment, and arduous effort from all of its students. Based on how well each quality is executed, students in the program are rewarded for their efforts by receiving the IB Diploma & Certificates. This provides honor and distinction to IB students for their endeavors in the program.
On Wednesday, January 3, 2018, students from Midlo's International Baccalaureate (IB) Class of 2017 returned to receive their IB diplomas and certificates. In order to acknowledge their hard work and the remarkable accomplishment of completing the IB program, Midlothian High School hosted the IB Diploma Ceremony. Midlothian Principal Mr. Shawn Abel, IB Coordinator Mr. Mark Spewak, and Midlothian Associate Principal Mrs. Elizabeth Baber addressed IB students, families, and teachers at the annual event. Delivering the keynote address, Midlo's 2017 IB Teacher of the Year Mr. Badr Sharobim provided words of encouragement and regard. A closing reception followed the ceremony to celebrate this accomplishment.
International Baccalaureate Class of 2017 Diploma & Certificate Recipients:
Isabel Adkins
Evan Arents
Vivien Berft
Sarah Bolstad
Mac Cartier
Madison Chazo
Anneke Craig
Sydney Dahl
Isobel Harrison
Nasita Islam
Mariha Junaid
Nikesh Kamani
Grace Kim
Hu'Niqkua Mcallister
Charles Miller
Nupur Pandya
Mukti Patel
Adrienne Preston
Ryan Shurie
Kyelin Thrift
Billie VanStory
 Karl Villareal
Katherine Wroblewski
Congratulations to the Midlothian High School Class of 2017 IB graduates!