Lessons of Compassion and Empowerment
Dr. Mykee Fowlin speaks during Teacher Work Week
On Friday, September 1, 2017, to close out Teacher Work Week, Dr. Mykee Fowlin visited Midlothian High School to present: You Don't Know Me Until You Know Me.  CCPS faculty members from Midlothian, Monacan, Meadowbrook, and James River gathered in Midlo's auditorium to experience a moving performance that ranged from dramatic to humorous to tragic, evoking mixed emotions that included laughter and tears.
Dr. Fowlin,  who received his undergraduate degree in psychology from Evangel University and his doctorate in clinical psychology from Rutgers University, used his expertise to bring four distinctive characters, Octavius, Ben, Sabine, and Peter, to life. Four chairs lined the stage, and Dr. Fowlin fell in and out of character, telling stories, some autobiographical, some not. The audience sat transfixed, as he donned minimal costumes and perfectly embodied his subjects. Octavius, a black Rutgers University football player, struggles to meet masculine expectation, while hiding his sexuality. Ben, a Jewish teen of Puerto Rican descent, lives with constant stereotypes. Sabine, a teen girl, half Indian and half Korean, confesses that she often feels silenced and demeaned, unable to assert herself like her male counterparts, and Peter, a teen confined to a wheelchair with Cerebral Palsy, lives a life of virtual invisibility. Each of these distinct characters yearns to feel accepted while showing their true identities.
With honesty and deep sincerity, Dr. Fowlin touched the CCPS employees, often bringing them to tears. According to his website, through his performances, he hopes to touch pre-teens to adults, giving them license to be themselves and see others through a different, empathetic lens. He notes: "We are capable of transforming the world, for the good, but this work starts from within; it is the process of turning our hurt into self-reflection, healing, and then action. It is our simple, but intentional, behaviors where significant change takes place. The gesture of us smiling, acknowledging the existence of another, is as powerful as any other deed done in the world. Let us be like the oyster, turning our pain into something more valuable, but never forgetting the final piece in this transition. The value of the pearl takes place when someone else receives it, not if the oyster keeps it."
Mrs. Jackie Tully, a Midlo English teacher, describes the performance as "both tragic and empowering," adding:  "The person walking in front of us in the hallway or sitting quietly in math class has personal struggles that we probably know nothing about. If we approach human interactions from a place of empathy and compassion, rather than judgment, we all will be better for it. Dr. Fowlin's presentation was the perfect way to approach a new school year." As teachers exited the auditorium, some wiping tears and some smiling,  Dr. Mykee Fowlin's message surely resonated, providing the perfect way to begin a new school year.
For more information about Dr. Mykee Fowlin's work, visit his website.
About the Contributor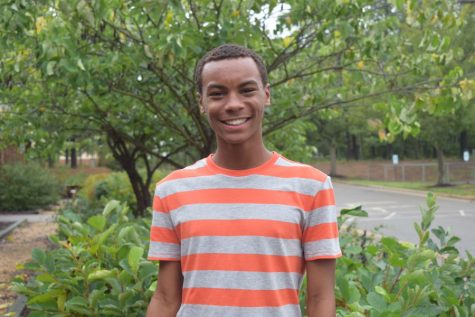 BJ Beckwith, Midlo Scoop Staff
BJ Beckwith, Class of 2018